Details

Hits: 53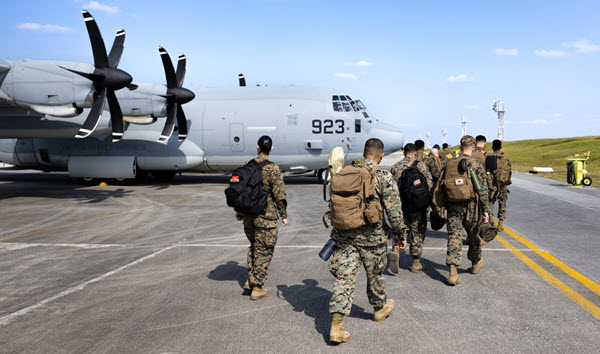 Okinawa, Japan. (February 9, 2023): In this photo by Corporal Cesar Alarcon, Marines with the III Marine Expeditionary Force board a C-130J Super Hercules transport plane at Kadena Air Force base during Bushido Strike 23, an annual exercise to test combat readiness. The Marines and sailors participated in a series of training events including cold weather training, marksmanship at pistol and rifle ranges, mounted live-fire convoys, a combat lifesaver course, and professional military education.
The harsh winter conditions and challenging terrain in South Korea adds a higher level of complexity and difficulty to the exercise. In Korea, the temperatures average 30 degrees in February and are expected to be as low as 8 degrees with a windchill factor of 1 degree below zero at the start of Bushido Strike 23. The exercise is a critical evaluation of the combat readiness of Marine infantry regiments, battalions, and aviation squadrons that occurs every 2 years for active component and once every 5 years for the reserve component.
The III Marine Expeditionary Force is a formation of the Marine Air-Ground Task Force that is forward-deployed and able to rapidly respond to humanitarian crises and is prepared for high-intensity combat.
The group is in Asia to support the Treaty of Mutual Cooperation and Security between the United States and Japan (1960) and other alliance relationships. The Marines and sailors of III MEF engage in more than 65 combined training exercises annually in treaty allies Japan, Thailand , South Korea, the Philippines, and Australia.
Details

Hits: 63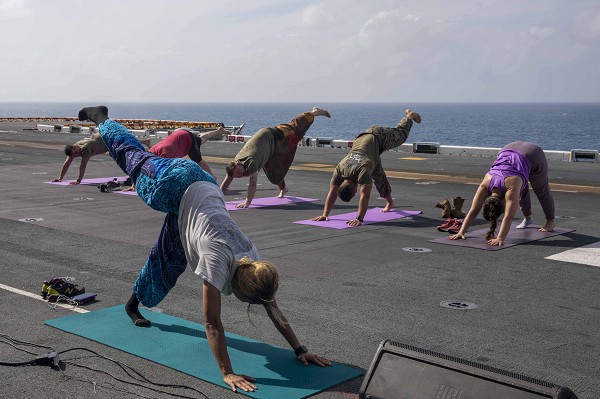 South China Sea. (February 19, 2023) In this photo by MC2 Minh-Thy Chu, MC3 Eloise Johnson instructs a yoga class during morale day on the flight deck of the amphibious assault ship USS Makin Island while on patrol in the South China Sea. Morale day included a high-intensity interval training workout, yoga, golfing, fishing, and a 5K run on the flight deck. These activities are part of the Navy's' efforts to boost morale aboard warships that operate for long periods at sea.
The Navy has faced morale challenges in the past, according to the Navy Times, due to the relentless mission pace of America's military. Sailors and Marines work exhausting schedules over many months that can lead to fatigue and a lack of focus on critical tasks, something that can prove deadly in wartime. The Navy recognizes the stress multiple deployments are having on personnel and is responding with programs to relieve boredom and boost morale.
The Makin Island Amphibious Ready Group is comprised of the amphibious assault ship USS Makin Island, the amphibious transport dock USS Anchorage, and the USS John P. Murtha. The Group is named after the Battle of Makin, an engagement of the Pacific campaign during World War II.
Details

Hits: 71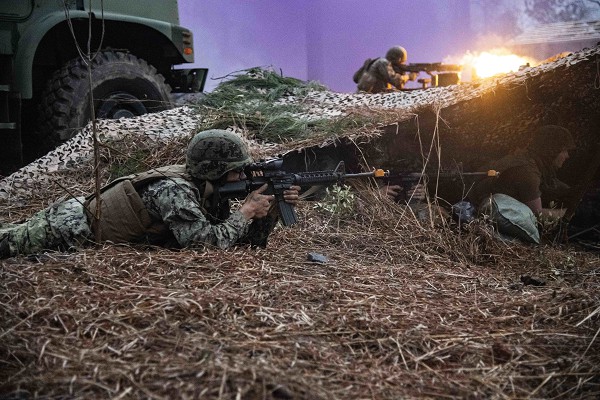 Camp Shelby, Mississippi. (February 7, 2023): In this photo by Petty Officer 2nd Class Andrew Waters, Seabees assigned to Naval Mobile Construction Battalion 133 and Marines from the 8th Engineer Support Battalion defend an expeditionary advanced base of operations during a simulated attack. Famous for their bravery and skill constructing airfields during World War II, the Seabees and their Marine comrades are responsible for establishing and defending Marine forward operating bases in combat.
Based at Camp Lejeune, North Carolina, the 8th Engineer Support Battalion is part of the 2nd Marine logistics group, II Marine Expeditionary Force, and is responsible for logistics and ordnance disposal. Naval Mobile Construction Battalion 133, nicknamed the "Runnin' Roos!", provides advance base construction, battle damage repair, contingency engineering, humanitarian assistance, and disaster recovery support to the fleet.
Should war break out, these units would be the "tip of the spear" going ahead of major combat units to construct landing strips, clear explosives, and repair damage facilities to pave the way for main force units.
Camp Shelby is an important training site for active duty and reserve units stationed in Alabama, Mississippi, and Tennessee.
Details

Hits: 97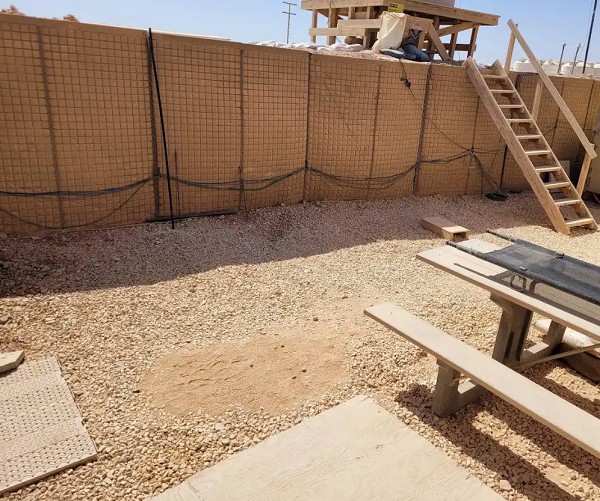 U.S., February 28, 2023 - Good morale helps create a good mission, and SupportOurTroops.org runs a substantial MWR (morale, well-being, and recreation) program to help assure that. In a series of video shorts now going into production, SOT will tell an American Tale of a uniquely interesting project by folks at home for their overseas troops. A tale of good deeds between Americans. A tale of why Americans walk taller and more confidently than most. That shows who we are, and what we're made of. Of the American character, the American Way. Of the character and habits that enabled us to save the world twice. Of the character and behavior that made this country great and will keep it great. So keep your eyes out for our series on fun and interesting project that once again proves Americans' love and goodwill toward their military service members.
Details

Hits: 119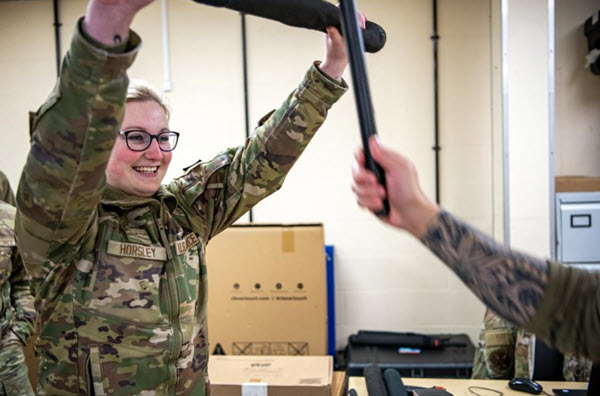 RAF Alconbury, United Kingdom. (February 7, 2023): In this photo by Staff Sergeant Eugene Oliver, an Airman from the 423d Security Forces Squadron demonstrates a baton block during a non-lethal combat qualification course at RAF Alconbury. The course teaches defenders the skills and knowledge to properly detain a suspect using non-lethal combative methods.
The term 'less-lethal' designates a wide array of weapons, ranging from the traditional police baton to encompass pepper spray, tear gas, electric-shock weapons such as Tasers TM, rubber and plastic bullets, water cannon, and eve acoustic weapons.
The goal of non-lethal military weapons is to incapacitate targeted personnel or materiel immediately, while minimizing fatalities or permanent injury to personnel and property. Non-lethal weapons are used to counter personal attacks by disabling the attacker and is intended to have reversible effects on personnel.
The 423rd Air Base Group's mission is to support operations at the Joint Intelligence Operations Center Europe Analytic that is responsible for over 50 countries in Europe, 33 Sub-Saharan and West African countries, and the Middle East.
The U.S. Air Force currently has over 35,000 military and civilians serving under the European Command.
Details

Hits: 120
ISIOLO, KENYA. (February 13, 2023): In this photo by Sgt. 1st Class Steven Eaton, U.S. Army Staff Sgt. Isaac Bocanegra, a team leader with the 720th Ordnance Company (Explosives Ordnance Disposal), observes a soldier from the Kenyan Defense Forces using a ground search metal detector during counter-improvised explosive device training while participating in exercise Justified Accord 23.
Led by the Southern European Task Force Africa, the maneuver brings together U.S. Forces and Kenyan Defense Forces to build readiness, prepare regional partners for United Nations and African Union mandated missions, and to increase multinational interoperability between armies.
More than 20 countries from 3 continents conducted command post exercises, field training, live fire, and maritime operations. Partner nations also held special operations and cyber courses and several humanitarian and civic assistance projects are also planned. Kenya will host activities primarily in Nairobi and Isiolo, with additional events planned in Uganda, Rwanda, Botswana, and Djibouti.
Headquartered in Vicenza, Italy, the U.S. Army Southern European Task Force Africa is comprised of the 173rd Airborne Brigade, the 207th Military Intelligence Brigade, the 414th Contracting Command, and the 509th Signal Battalion offering commanders a diverse range of capabilities.
Subcategories