Details

Hits: 146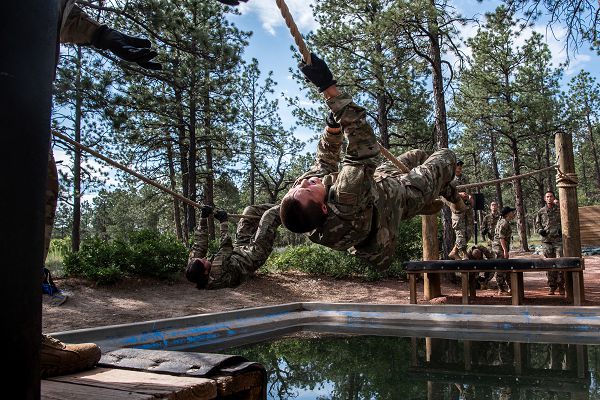 Colorado Springs, Colorado. (August 12, 2023): Bursting with youthful exuberance, Air force Basic Cadet Trainees endure a rite of passage during Basic Cadet Training. In this photo by Rayna Grace, Basic Cadets from the Class of 2027 complete the obstacle course at the U.S. Air Force Academy's Jacks Valley training area in Colorado Springs, Colorado. Basic Cadet Training is a six-week indoctrination program to guide the transformation of new cadets from being civilians to military academy cadets prepared to enter a four-year officer commissioning program.
The Class of 2027 has 130 cadets who are 70 percent men and thirty percent women with one third racial minorities. They are a smart bunch with 53 percent finishing in the top ten in their high school graduating class.
These young cadets endure a two-phase program that pushes them to their mental and physical limits. The first phase of Basic, called life "On the Hill" , is especially difficult for these newcomers as they make the transition from civilian to military life. Physical exercise begins at dawn and continues throughout each day, before and after breakfast, lunch, and dinner.
Details

Hits: 64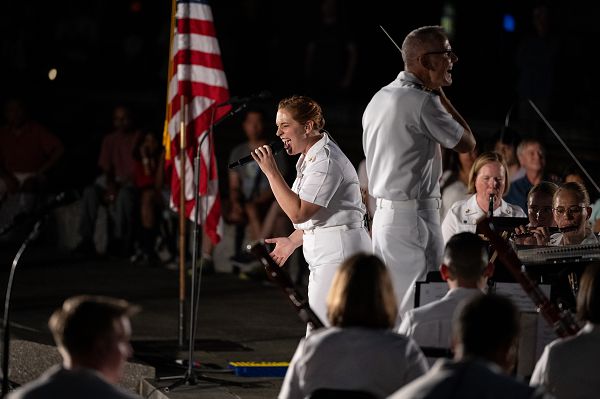 Washington, D.C. (Aug. 8, 2023): In this photo by Master Chief Musician Adam Grimm, Musician 1st Class Michaela Swan, from Rochester, New York, performs with the U.S. Navy Band at the U.S. Navy Memorial in Washington. The Navy Band performed at the Navy Memorial as part of its annual Concert on the Avenue series, telling the Navy story through a mix of popular songs and patriotic music.
One of our nation's oldest traditions, the United States Navy Band is based at the Washington Navy Yard and has served as the official musical organization of the U.S. Navy since 1925. The band serves the ceremonial needs at the seat of U.S. government, performing at presidential inaugurations, state arrival ceremonies, state funerals, state dinners, and other significant events. The band performs a broad range of music, including ceremonial ruffles and flourishes, classical, rock, jazz, and country.
The earliest music aboard United States Navy ships was the Shantyman's songs, melodies of the sea that helped soften the hard edge of shipboard life. From these humble songs followed trumpeters, drummers, and fifers who were carried on the early frigates to sound calls, give general orders, and perform at funerals and other ceremonies. Military bands became a separate section of the crew on many Navy vessels.
President Calvin Coolidge signed into law a 1925 bill stating "hereafter the band now stationed at the Navy Yard, known as the Navy Yard Band, shall be designated as the United States Navy Band." The legislation also allowed the band to take its first national tour in 1925.
Details

Hits: 127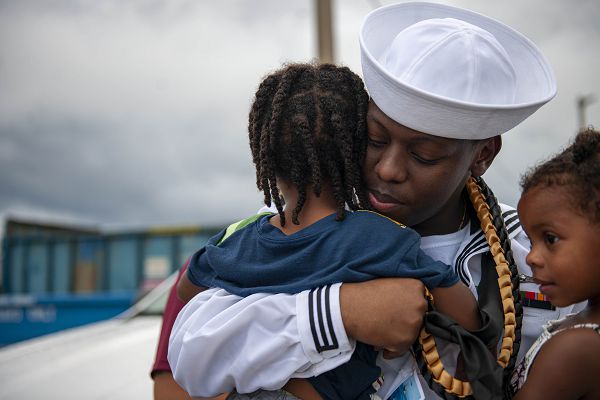 Naval Base Guam. (Aug. 5, 2023): Few Americans will experience the confined life of a Sailor aboard America's submarines while serving months at sea. In this photo by MC1 Justin Wolpert, a Sailor assigned to the Los Angeles-class fast-attack submarine USS Annapolis hugs his children during the boat's homecoming celebration after a six-month deployment. Life aboard these undersea warships is one of the toughest and most rewarding jobs in the Navy. Life for these Sailors is quite different, however, than most civilians can imagine.
Theirs is a dark, cramped, windowless world of round the clock shift work on an 18-hour daily schedule. Life aboard is divided into three six-hour periods, sleeping, working, or spending free time. Due to the lack of light on a sub, mariners lose track of time to the point where they only realize it is morning because they are eating breakfast. Because a third of a submarine houses the nuclear reactor, there is not enough room for Sailors to have their own "rack" so they share bunks and sleep in shifts. Space is so precious there are even bunks in the torpedo room.
Free time is spent in the mess halls watching television or working out in the ship's tiny gym, usually just a few machines, to stay in shape. Submariners have limited contact with home while at sea, limited to emails that are exchanged when their sub surfaces but that is not very often.
Details

Hits: 99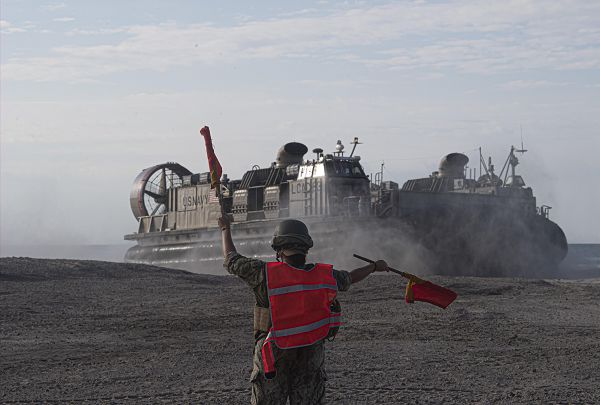 Camp Lejeune, North Carolina. (Aug. 9, 2023): In this photo by MC1 William Bennett IV, Boatswain's Mate 3rd Class Katrina Estevez, assigned to Beachmaster Unit 2, directs a Landing Craft, Air Cushion (LCAC) assault craft participating in U.S. Fleet Forces Command's Large-Scale Exercise 2023. These massive landing craft, built by Textron Marine Systems, can transport up to seventy-five tons of personnel and equipment directly onto the beach during an amphibious landing rather than unloading in shallow water. The LCAC has a crew of five and is powered by four gas turbine engines that can speed up to fifty miles per hour to the shore.
Ironically, this technical marvel traces its roots to Japanese landing boat designs "borrowed" by the Americans just before the start of World War II. In 1939, the Japanese led the world in landing craft with its advanced Daihatsu design. Unlike American boats at the time, the Daihatsu had droppable front ramps that enabled troops to quickly disembark from the bow, rather than having to clamber over the sides and splash into the surf.
This clever innovation was spotted by Lieutenant Victor Harold Krulak, a Marine intelligence officer who witnessed the Japanese using the Daihatsu in action during the invasion of China. Krulak teamed up with New Orleans boat builder Andrew Higgins to create a new bow design for thousands of "Higgins" landing craft used for troop landings during World War II.
Details

Hits: 112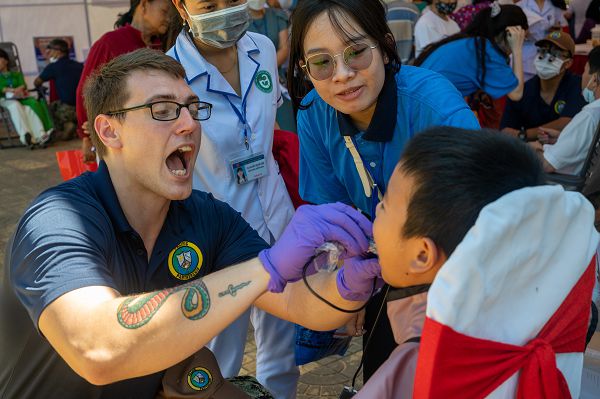 Tuy Hoa, Vietnam. (Aug. 10, 2023):We Americans are justly proud of our armed forces for its military prowess, but most do not realize the fantastic humanitarian work it does around the world. In this photo by Ensign Madison Kwok, Hospital Corpsman 2nd Class Logan Richardson prepares a dental x-ray for a Vietnamese patient at the Phu Yen General Hospital health fair during Pacific Partnership 2023. Now in its 18th year, Pacific Partnership is the largest annual multinational humanitarian assistance and disaster relief preparedness mission conducted in the Indo-Pacific.
This is the twelfth visit to Vietnam by U.S. forces along with Australia, Chile, Japan, the Republic of Korea, and the United Kingdom. During the five-month mission, 1500 personnel collaborated with local authorities on civic action preparedness in the field of engineering, disaster response, public health, and local host nation outreach.
addition to routine medical care, the U.S. team joined with Phu Yen General Hospital staff to perform hip and knee replacement operations for Vietnamese citizens at no cost. American engineers constructed a new building for Hoa Dinh Tay Primary School and renovated several other primary schools for local children.
This incredible humanitarian work gives servicemembers a chance to show their softer side, and the world to see the human side of the American people.
Details

Hits: 87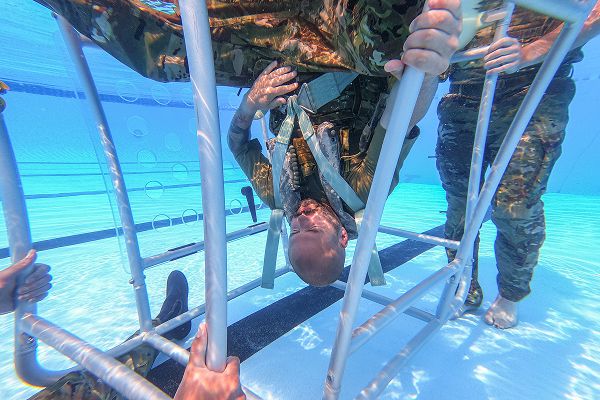 Malstrom Air Force Base, Montana. (August 15, 2023): In this photo by Senior Airman Mary Bowers, Captain Chase Todd, a pilot with the 40th Helicopter Squadron, holds his breath while undergoing Underwater Egress Survival Training, a brutal test of physical and psychological strength.
In this challenging program, instructors use a simulated helicopter body to train pilots and air crew how to escape from various underwater emergency situations. This device is officially called a Modular Amphibious Egress Trainer and consists of a pilot chair connected to buoys to represent the cockpit of an aircraft. Once strapped into their seat, trainees are then flipped upside down and submerged in water and must successfully extricate themselves from the aircraft before running out of air. Students practice dropping their gear, exiting the aircraft, and returning safely to the surface.
Unfortunately, some trainees panic in this situation.
Subcategories