Details

Hits: 82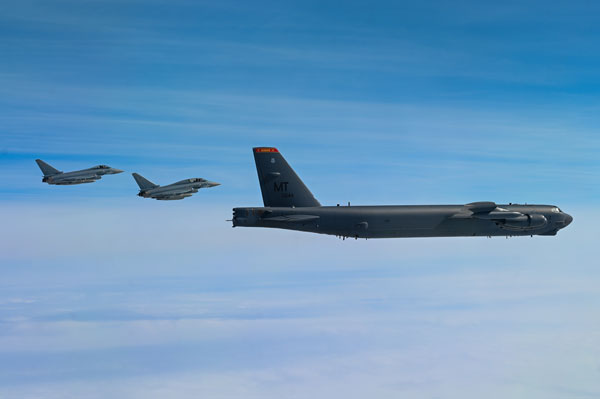 Mediterranean, April 5, 2022 – Two German Air Force Eurofighters escort a United States Air Force B-52H Stratofortress assigned to the 69th Expeditionary Bomb Squadron at RAF Fairford, England April 5, 2022. The German Air Force escorted the 69th EBS on their way to the Mediterranean region to integrate with Allies as part of pre-planned Bomber Task Force Europe series of missions. Photo by Airman 1st Class Zachary Wright.
FLYING AIRCRAFT TWICE THEIR AGE…
America's Fighting "Nighthawks" Take to the Sky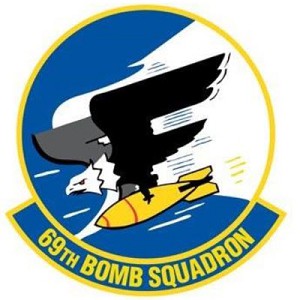 Hats off to the brave members of the storied 69th Expeditionary Bomb Squadron, currently based in Fairfield, England, seen in action Courtesy of Military Photographer Airman 1st Class Zachary Wright.

It's true. The young pilots and aircrews of today's B52 Stratofortress operate planes that are often more than twice their age.

The veritable American B52 Stratofortress first flew in 1952, 60 years ago this year, and is the longest serving aircraft in the world according to the Air Force. When extensive refitting is completed, the 69th Squadron will likely fly these ships beyond the year 2030.

The "Nighthawks" got their name from the fierce American Nighthawk (Chordeiles minor), a nocturnal predator that hunts by night, is difficult to spot with the naked eye in the daytime and is best known for its terrifying shriek in the darkness.
Details

Hits: 77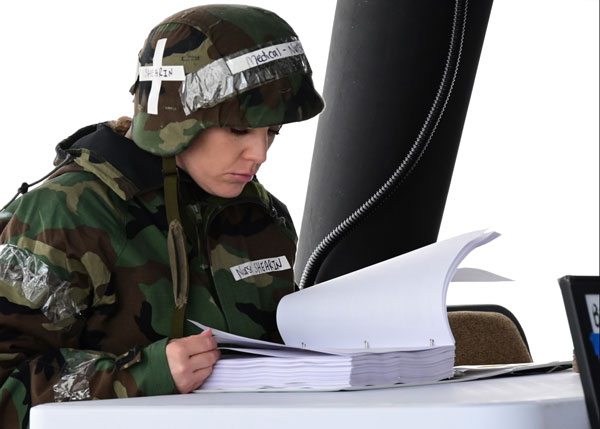 Berry Field Air Base, April 7, 2022 – U.S. Air Force 1st Lt. Rachel Shearin, a nurse with the 118th Medical Group, reads through a medical manual in a deployment situation April 7, 2022 at Berry Field Air National Guard Base, Nashville, Tennessee. Members from across the 118th Wing took part in the largest on-base readiness exercise in wing history April 5-9, to help prepare and train the wing for a near-peer conflict. Photo by Staff Sgt. Jordan Harwood
Details

Hits: 74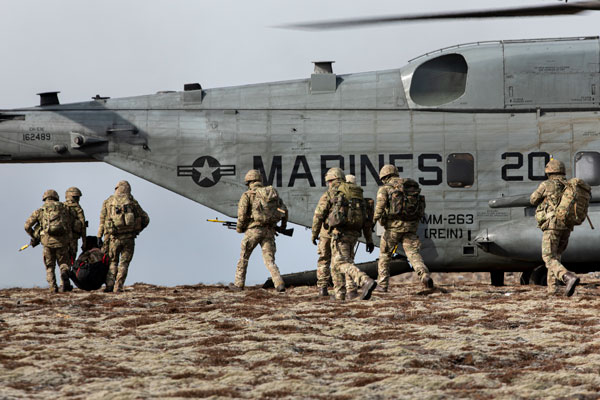 ICELAND, April 8, 2022 – Royal Marine Commandos assigned to M Company, 42 Commando Royal Marines board a U.S. Marine Corps CH-53E Super Stallion assigned the Aviation Combat Element, 22nd Marine Expeditionary Unit while participating in a tactical recovery of aircraft and personnel exercise during Northern Viking 2022 on Keflavik Airbase, Iceland, April 8, 2022. Northern Viking 22 strengthens interoperability and force readiness between the U.S., Iceland and Allied nations, enabling multi-domain command and control of joint and coalition forces in the defense of Iceland and Sea Lines of Communication in the Greenland, Iceland, United Kingdom (GIUK) gap. Photo by Cpl. Yvonna Guyette)
Details

Hits: 74
Marine Photographer Cpl. Yvonna Guyette captured members of the Aviation Combat Element, 22nd Marine Expeditionary Unit doing joint operations with one of England's most heralded special operations units, the 42 Commando (Pronounced Four Two Commando). This was a meeting of two of the worlds most advanced militaries to cooperate on maritime operations, just a day in the life for Marines assigned to such forward deployed forces.
Read more: For the 22nd Marine Expeditionary Unit, it is being there when you need them most.
Details

Hits: 61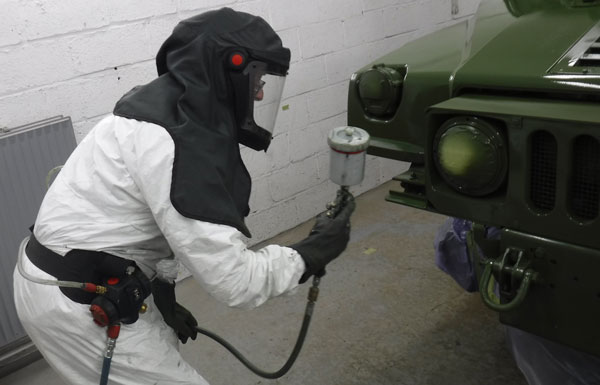 CHIEVRES, BELGIUM, April 6, 2022 - Joel Carpreau, an automotive mechanic paint and body shop specialist with Logistics Readiness Center Benelux, sprays a Humvee with a fresh coat of olive drab green paint. LRC Benelux is tasked with painting more than 150 tan colored tactical vehicles and equipment pieces olive drab green, all of which are assigned to Army Field Support Battalion-Benelux. Photo by Cameron Porter
Details

Hits: 97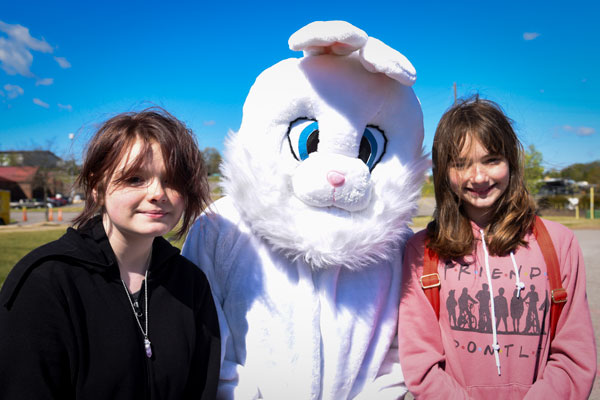 Sumpter Smith Joint Base, April 9, 2022 – Children participate in an Easter Egg Hunt celebrating the Month of the Military Child at Sumpter Smith Joint Air National Guard Base, April 9, 2022. April is the 35th Anniversary of The Month of the Military Child, which is part of the legacy of former Defense Secretary Caspar Weinberger, who established the Defense Department commemoration in 1986. Photo by Staff Sgt. Wesley Jones.
Subcategories