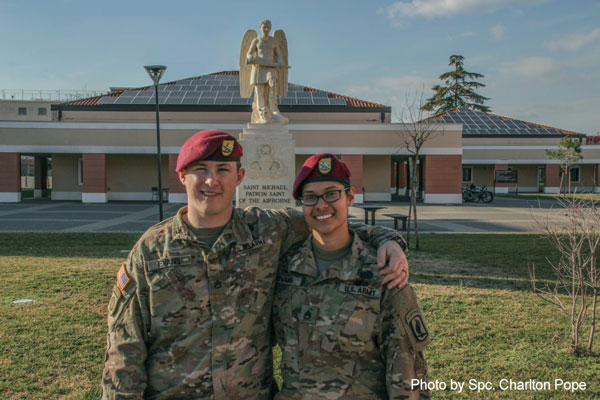 Army Staff Sgts. Zachary and Michelle Evans pose together for a photo outside the 173rd Airborne Brigade Combat Team headquarters building in Vicenza, Italy, after earning their Senior Parachutist Wings together, Jan. 23, 2018. This was the last jump they completed with the unit; it was also the last jump they both needed to obtain the title of Senior Jumpmaster.
By Army Spc. Charlton Pope, 173rd Airborne Brigade Combat Team
VICENZA, Italy, Feb. 13, 2018 — Army Staff Sgts. Zachary and Michelle Evans have spent almost their entire military careers together.
They met while in-processing with the 82nd Airborne Division at Fort Bragg, North Carolina, in December 2010, after both had completed Airborne School. They were placed in the same company and platoon. Michelle jokes about Zach having to ask her out on a date three different times before she finally said yes. They have been practically inseparable since.
They deployed together to Afghanistan in 2012 with the 82nd Airborne in support of Operation Enduring Freedom, both earning a Combat Action Badge. The couple were married soon after returning from the deployment.
Both soldiers came into the Army as privates and have risen through the enlisted ranks together. While Zach beat Michelle to private first class, Michelle has beat him to every rank since; however, he has never been far behind her. This competitive spirit has kept them both striving to get to the next level and to be better than they were before.
Deployments to Afghanistan
In 2014, the couple were rotated back overseas for their second deployment together with the 82nd to Afghanistan. During this deployment, Michelle won the Sgt. Audie Murphy Board.
After returning from the deployment, the couple were posted to Italy with the 173rd Airborne Brigade Combat Team, heading to the Brigade Support Battalion. While serving in Italy, they both attended Jumpmaster School, failing together the first time. They were able to attend again soon after; this time, Michelle passed, but Zach would have to attend one more time.