Details

Hits: 71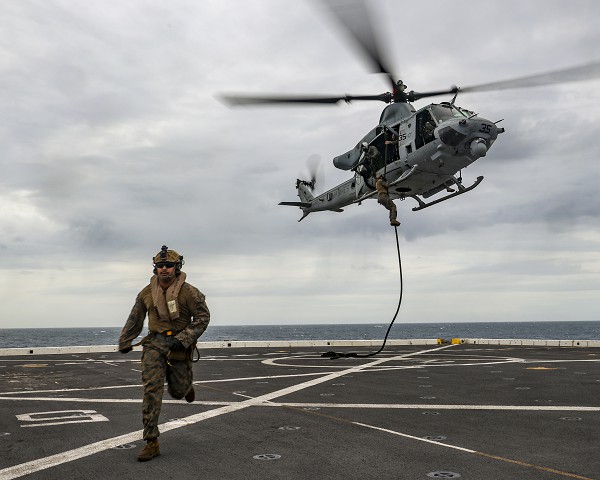 PACIFIC OCEAN (January 4, 2023): In this photo by Corporal Austin Gillam, Marines with Battalion Landing Team 2/4, 13th Marine Expeditionary Unit, participate in fast-rope operations aboard the amphibious transport dock USS Anchorage. A force in readiness, the 2/4 trains in fast rope operations to rapidly respond to crises in all domain environments. The 2nd Battalion, 4th Marines (2/4th) earned the nickname "Magnificent Bastards" for their heroic actions in the Battle of Dai Do during the Vietnam War.
In December 1967, the Battalion Landing Team 2/4 disembarked from the USS Iwo Jima, an amphibious-ready off the coast of Vietnam, to take part in the epic Battle of Dai Do. Little did they realize their 1,000-man battalion would be taking on an entire NVA Division. According to Col. William Weise, the 2/4 battalion commander, "This is the only engagement of the entire Vietnam conflict, where a single reinforced battalion-sized Marine unit, supported by intense naval gunfire, fought head-to-head with a division-sized unit of between 6,000 to 10,000 regular NVA soldiers."
Details

Hits: 73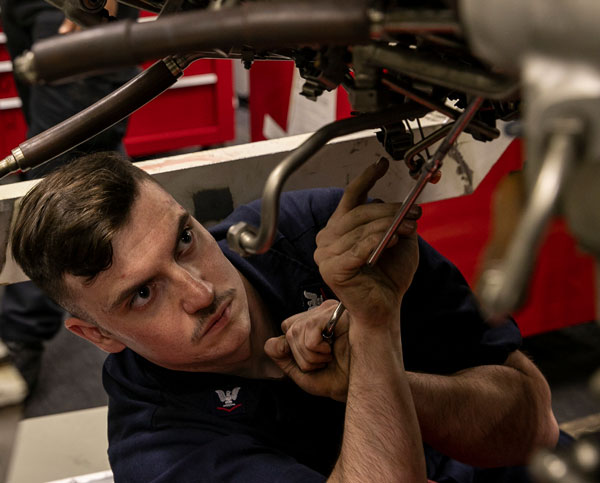 ADRIATIC SEA (January 10, 2023) In this photo by MC3 Nicholas Avis, Aviation Machinist's Mate 3rd Class Luke Antes, assigned to the Nimitz-class aircraft carrier USS George H.W. Bush, tightens down a bolt on an F/A-18 jet engine. The George H.W. Bush Carrier Strike Group is on a scheduled deployment in the U.S. Naval Forces Europe area of operations to defend U.S., allied and partner interests.
Navy Machinist Mates are highly skilled mechanics that are essential to the success of air operations on carriers, particularly with today's advanced engine technology. A Machinist Mate adjusts, tests, repairs, and even overhauls aircraft engines and propellers on America's most advanced fighters. In addition to performing routine maintenance, Machinist Mates help prepare aircraft for flight and assist in handling aircraft on the ground.
Details

Hits: 208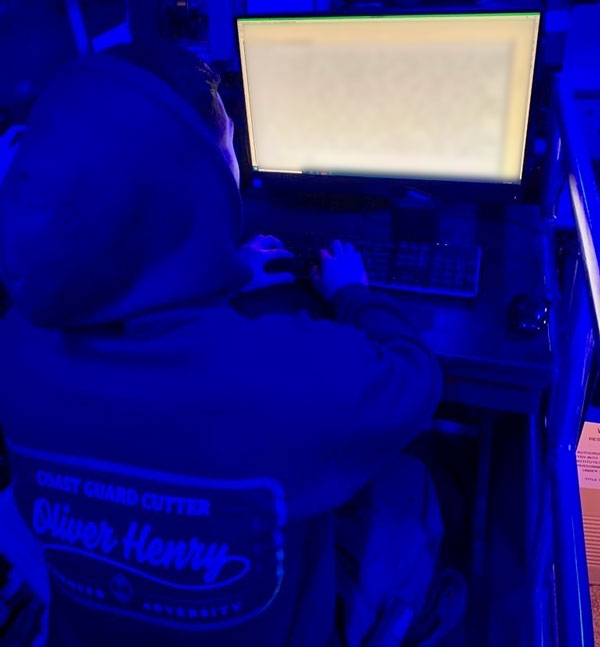 Northern Mariana Islands, January 1, 2013 - Part of the U.S. Coast Guard Forces Micronesia / Sector Guam, Seaman Dylyn Gonzales prepares USCGC Oliver Henry's (WPC 1140) New Year's 2022 watch log entry while off Saipan. Oliver Henry is currently on patrol in western Oceania and is first in for response should the need arise. The log entry adds their contribution to this legacy.
Photo by SNEM Joesph Suttles
Details

Hits: 104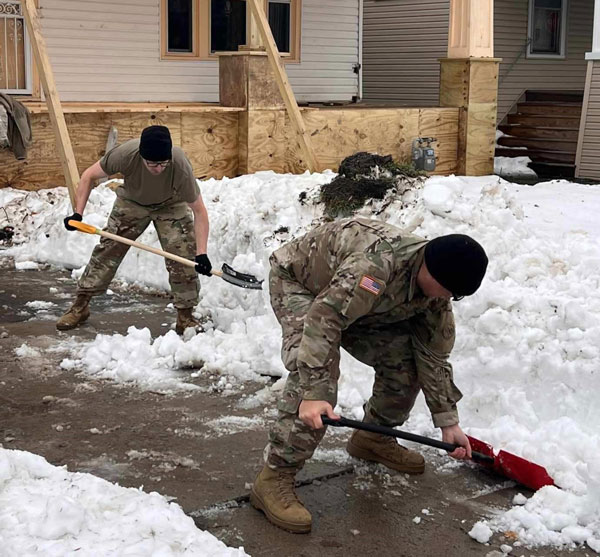 BUFFALO, N.Y. December 30, 2022. Imagine what it must have been like trying to survive the once-in-a-generation blizzard in Buffalo last week, a storm that dumped two to three feet of snow and produced gale force winds up to 70 miles per hour. Blinding lake-effect snow caused whiteout conditions that paralyzed emergency response efforts leaving even rescue workers themselves stranded in ambulances and other emergency vehicles.
Soldiers from the New York National Guard came to the rescue, helping clear snow and doing welfare checks to make sure Buffalo residents survived the storm. The National Guard deployed more than 650 troops to assist city and county residents with search and rescue, emergency transportation, snow removal, health and welfare checks, decedent recovery, logistics, and traffic control.
Details

Hits: 109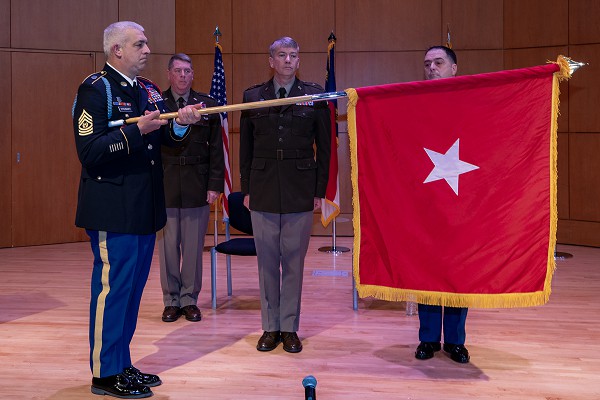 Raleigh, North Carolina, January 1, 203 - The North Carolina National Guard rings in the New Year by hosting a promotion ceremony for its newest brigadier general at a ceremony at NCNG Joint Force Headquarters in Raleigh, North Carolina, Jan. 1, 2023. Charles W. Morrison, center reviewing his new brigadier general's flag, a 28-year NCNG veteran of two wartime deployments and numerous state active duty missions, will take those hard-earned skills and leadership lessons to the Pentagon as a Deputy Director with the Department of the Army.
Photo by Sgt. 1st Class Robert Jordan
Details

Hits: 111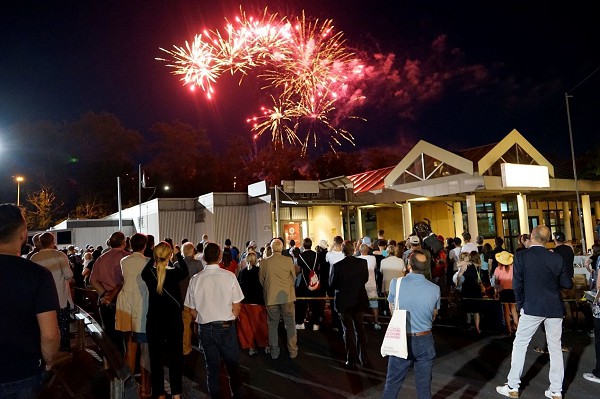 WIESBADEN, Germany – December 29, 2022 - 2022 is right around the corner and if you have spent longer than a year in Germany you know what a mesmerizing night it can be. Full of chaos and brightly colored streams of fire streaking across the skies, New Year celebrations in Germany gives a different meaning to the phrase "the rocket's red glare."
Fireworks are an expression of celebration that have been holiday traditions used to celebrate the Fourth of July and New Year's Eve for generations. Professional fireworks displays are often joyous happy showcases that draw millions to their spectacular demonstrations of light and color.
Read more: HOW OUR SERVICEMEMBERS CELEBRATE NEW YEARS IN GERMANY
Subcategories