Details

Hits: 80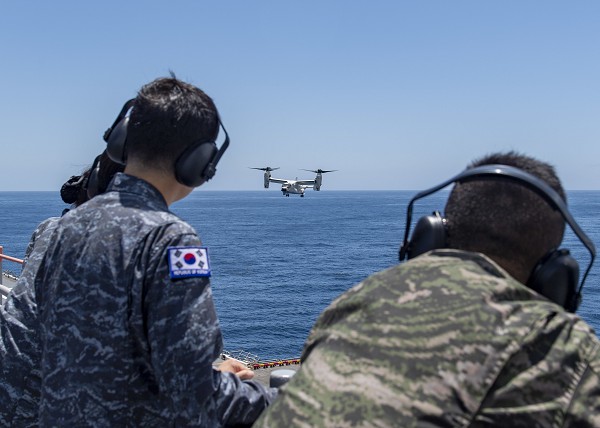 Pacific Ocean. (August 31, 2022): In this photo by Communications Specialist 2nd Class Brett McMinoway, U.S. Navy Sailors join members of the Republic of Korea Navy as they observe a CMV-22 Osprey tilt-rotor aircraft landing on the amphibious assault ship USS Essex. Assigned to the U.S. 3rd Fleet, the Essex and her crew routinely operate with their South Korean counterparts conducting flight operations to counter potential aggression from North Korea.
Pacific Ocean (August 31, 2022): "They that go down to the sea in ships, that do business in great waters." Psalm 107-33, King James Bible.
For centuries, sailors have answered the call to conduct "business in great waters" to both explore strange lands and to defend their nation from attack. Today, the U.S. Navy operates in great waters with their South Korean counterparts to counteract hostility from North Korean Dictator Kim Jong Un.

Despite its bravado, North Korea's navy is dwarfed by South Korea which has 160 ships including 12 Destroyers, 18 Frigates, and 22 submarines making her the third largest surface fleet in Asia. The Republic of Korea deploys some 70,000 sailors and features another 29,000 ROK Marines, some of the toughest war fighters in the world.
Joining this armada is the veritable USS Essex (pictured above), an 850-foot Wasp Class Amphibious Assault ship assigned to the U.S. 11th Marine Expeditionary Unit. The Essex has a crew of 73 officers and 1009 enlisted sailors who together ferry some 1,900 combat Marines into battle. With a 140-foot flight deck and a helicopter landing dock, the Essex fields over 30 aircraft including some of America's most advanced fighters. Well-armed, the Essex sports two NATO Sea Sparrow missile launchers, two 20mm Phalanx anti-aircraft batteries, and eight MK-22 50 caliber machine guns.
Read more: U.S. AND R.O.K. NAVIES CONFRONT BELLIGERENT NORTH KOREA
Details

Hits: 93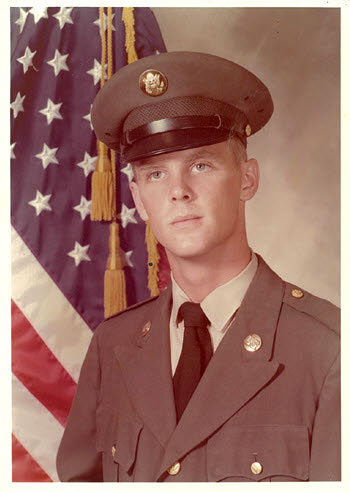 Tallahassee, FL. (September 6, 2022): I turn 64 next week and, at this age, memories begin to fade. One memory that has stuck with me, as clear today as it was in 1977, was stepping off a transport plane at Ramstein Air Force Base, Germany as an 18-year-old soldier deployed overseas for the first time.
I remember being consumed with emotion, fear of landing in a foreign land with new people speaking strange languages, pride in being an American representing our great country, and bursting with optimism for what lay ahead.
The enthusiasm began to fade, however, after a very short time. Birthdays and anniversaries came and went, holidays now were spent among strangers, and life's celebrations seem to go on just fine without me. Even to this day the feeling is hard to describe, a dark, cold sense of feeling disregarded somehow, that the hardships we were enduring went unnoticed, and that the American public had all but forgotten us.
That is why I joined Support Our Troops, an organization dedicated to never allowing a single troop to experience such feelings while they are deployed overseas, away from the familiar and longing for home. Back then, there were no "care packages" sent by ordinary Americans to the troops, the only thing a G.I. looked forward to was the daily mail call and the slow trickle of correspondence from home. Today, we have an international charity like SOT which sends their famous Yellow Ribbon Care Packages to remote bases around the world, boosting the morale of thousands of lonely troops like me.
Nowadays, people often thank me for my service, and I am humbled and grateful for their support. The one thing I encourage all Americans to do is to take a moment, right now, to show your support for our deployed overseas servicemembers by contributing funds to Support Our Troops' Patriot Brigade®. Here you will join thousands of patriots who make monthly donations to pay for comfort items and recreational programs for our military deployed overseas. Please go to our secure website https://supportourtroops.org/donate to contribute to America's finest today!
Let them know they are not forgotten.
Jim Spearing, SSG, (Ret.)
Details

Hits: 85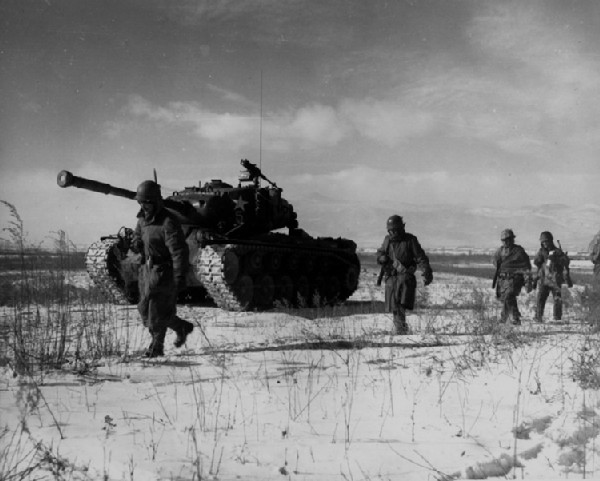 Chosin Reservoir, North Korea. (Oct. 18, 1950): In this classic Korean War photo, members of the U.S. 1st Marine Division, along with their surviving armor, move through Chinese lines in a successful break out from the battle of the Chosin Reservoir. The surprise attack by the Chinese Army surrounded American and South Korean defenders necessitating a brutal battle for survival legendary in the annals of Marine Corps history.
Seoul, South Korea. (Sept. 1, 2022): The ground beneath their feet was so frozen that foxholes could only be dug using explosives. Temperatures at night dropped to 30 degrees below zero as American and South Korean forces huddled around smudge pots for warmth, dreaming of a homecoming that was, for many, not to be.
General Douglas McArthur's brazen landings at Inchon had staggered the Communist North Korean's "People's Army" who were retreating north in panic. Pursued relentlessly by the U.S. Marine 1st Division and the Army's 7th Infantry Division, the remnants of the enemy fled north to the Chinese border and American commanders felt certain the war was all but over.
Unknown to McArthur, the Chinese had assembled a force of 33 divisions comprising 150,000 combat troops that began an all-out assault on the U.N. forces encircling the Americans and South Koreans at the Chosin Reservoir in September 1950. What followed was a brutal, 55-mile fighting withdrawal of 30,000 U.N. troops in freezing conditions through mountainous terrain. When the battle ended, over 6,000 Americans were dead and approximately 18,000 wounded, many suffering from frost bite. The toll for the Chinese was far worse with an estimated 50,000 dead, including Communist Chinese leader Mao ze Dong's eldest son.
Read more: THE BATTLE OF THE CHOSIN RESERVOIR… A FROZEN NIGHTMARE FOR U.S. FORCES
Details

Hits: 100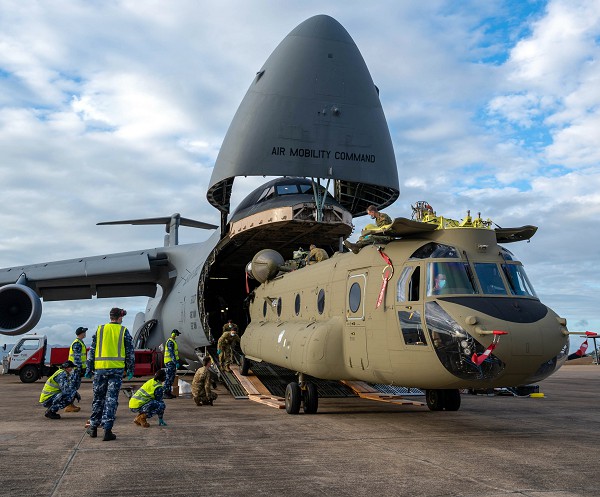 Townsville, Australia. (August 26, 2022): In this photo by Senior Airman Faith Schaefer, a U.S. CH-47F Chinook helicopter is unloaded from C-5 Super Galaxy transport plane at Royal Australian Air Force Base, Townsville, Australia as part of the Defense Department's Foreign Military Sales Program. The U.S. and Australia maintain a robust relationship based upon shared democratic values and a devotion to freedom and democracy. This strong alliance is key to the peace and stability in the Indo-Pacific to counter territorial designs by China.
Townsville, Australia. (August 26, 2022): No, an AUKUS is not a furry creature indigenous to Australia but rather a trilateral security agreement between Australia, Britain, and the United States to share defense technology, something China fears… and for good reason.
While provisions helping Australia acquire nuclear submarines has grabbed all the headlines, it is the "targeted" cooperation on advanced intelligence gathering technology, cyber warfare, and quantum computing that has Chinese war planners the most concerned.And they should be.
As Australia acquires these advanced defense technologies, the Chinese realize the threat it poses to their designs on the Indo-Pacific region. The prospect of Australian nuclear submarines operating continuously in the South China Sea has unnerved China, but it is the potential development of long-range missiles, advanced guided weapons, and large undersea drones that has them most alarmed.
Details

Hits: 99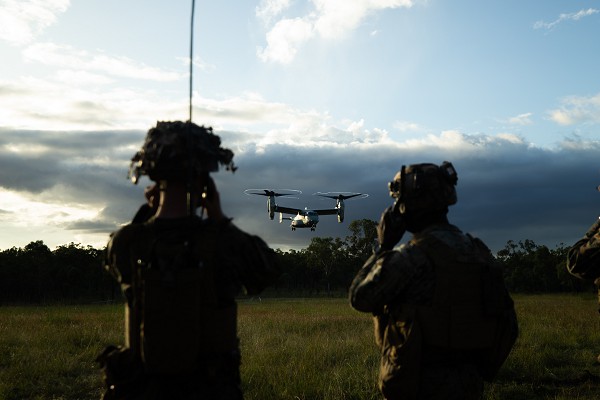 Queensland, Australia. (August 22, 2022): In this photo by Corporal Cedar Barnes, U.S. Marine Corporal Luc Cogger, a radio operator with Lima Company, 3rd Battalion, 7th Marine Regiment and Sergeant Terrance Jones, a joint terminal attack controller, guide an MV-22 Osprey assigned to Marine Rotational Force Darwin to a safe landing during mass casualty event exercises at Australia's Shoalwater Bay Training Area. U.S. Marines are returning to six-month deployments to the land down under after a three-year hiatus due to COVID 19 restrictions.
Queensland, Australia. (August 22, 2022): Always the "tip of the spear", the U.S. Marines are returning to Australia in force as America and her allies gear up to confront a growing menace from China. Over 2,200 Marines deployed from Camp Pendleton, California along with a detachment of soldiers from the U.S. Army Pacific to the Australian port city of Darwin recently to begin a six-month deployment.
The Marines will train with Australian troops and other friendly forces to respond to crises, both military and humanitarian, in the Indo-Pacific region. This is the eleventh deployment of America's finest since 2012 and represents a continued commitment to America's defense umbrella for the region. Elements of the 5th Marine Regiment, 1st Marine Division began arriving this week restarting a six-month rotation of forces interrupted in recent years by COVID-19.
Read more: FAMOUS "FIGHTING FIFTH" MARINES TRAINING DOWN UNDER
Details

Hits: 79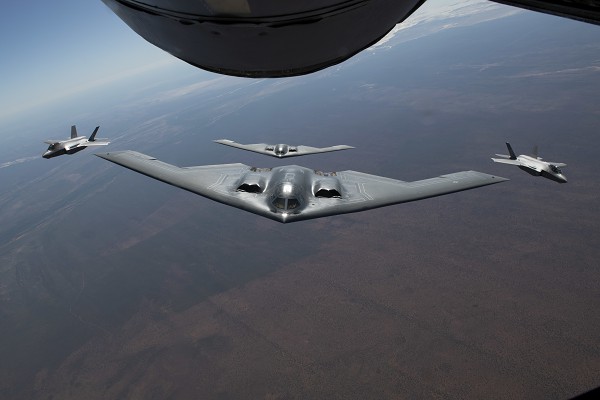 Melbourne, Australia. (August 26, 2022): In this photo by Technical Sergeant Dylan Nuckolls, two U.S. Air Force B-2 Spirit bombers assigned to the 509th Bomb Wing at Whiteman Air Force Base, Missouri, fly a bomber task force mission alongside two Royal Australian Air Force F-35 Lightning II bombers during Koolendong 22, a precursor to the restart of Pitch Black, a 16-nation air combat exercise over Australia Northern Territories that is expected to run through September, 2022.
Melbourne, Australia. (August 26, 2022): Described as the "premier multinational air combat exercise", the skies over Australia's Northern Territory will be flooded with the world's most advanced fighter aircraft as 16 nations participate in Exercise Pitch Black.
Naturally, America's advanced technology will be on full display as elements of the U.S. Air Force join with allied nations to prepare for a potential conflict with an increasingly confrontational China.The American 509th Bomb Wing, based in Missouri, are flying the Air Force B-2 Spirit bombers while the U. S. Marines contribute 12 F-35B Short Take Off and Vertical Landing Craft drawn from squadrons based in Japan.
Speaking of the Japanese, they along with pilots from the German Luftwaffe and South Korea will make their debut in these biennial exercises which are returning after a four-year hiatus due to COVID-19. During three weeks of flight missions, pilots will face realistic, simulated air combat situations designed to test force integration and tactics.
The 509th Bomb Wing threw the first punch after terrorists attacked New York and Washington on 911 being the first to penetrate Afghan air space in October 2001, flying round trip missions from Whiteman Air Force Base, Missouri, logging combat missions of over 30 hours, the longest on record.
Subcategories