Details

Hits: 40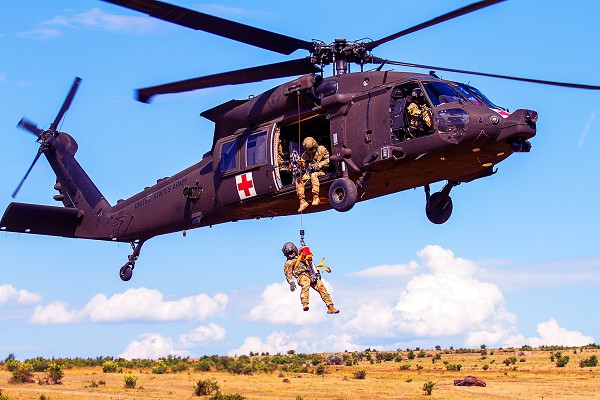 Babadag Training Area, Romania. (September 12, 2022): In this photo by Captain Taylor Chriswell, an HH-60 Medevac helicopter and crew assigned to C Company, 2-227 General Support Aviation Battalion hoist a simulated casualty during personnel recovery training with the United Kingdom in Romania. U.S. troops are relocating to Romania from bases in Germany to shore up NATO's eastern flank against attacks by the Russians who illegally invaded nearby Ukraine.
Babadag Training Area, Romania. (September 18, 2022): Imagine you are a soldier deep behind enemy lines, wounded, and desperate for someone to rescue you before the enemy closes in. Suddenly you hear the familiar sound of rotor blades cutting the air as the Army's HH-60 Black Hawk descends like an angel from the sky, lifting you to safety.
First flown in 2017, the UH-60 version of the Black Hawk is outfitted specifically for personnel recovery/medical evacuation duty. The Black Hawk sports twin General Electric Aviation built T700 engines designed for inclement weather and even has a special inlet which spits out dirt, sand, and dust in desert conditions. This baby cruises at speeds up to 170 mph and can transport an entire 11 person fully equipped infantry squad in all weather conditions day or night. The craft is flown by two pilots assisted by two crew chiefs and is armed with two 7.82 mm machine guns for protection.
The Army has greatly improved passenger safety as each Black Hawk's critical systems are armored and the fuselage is designed to crush progressively on impact in a crash. Black Hawk pilots undergo 13 weeks of intensive training at the 212th Aviation Regiment at Fort Rucker, Alabama where they learn pre-flight, basic flight maneuvers, emergency procedures, and to fly at night under hazardous conditions.
Details

Hits: 49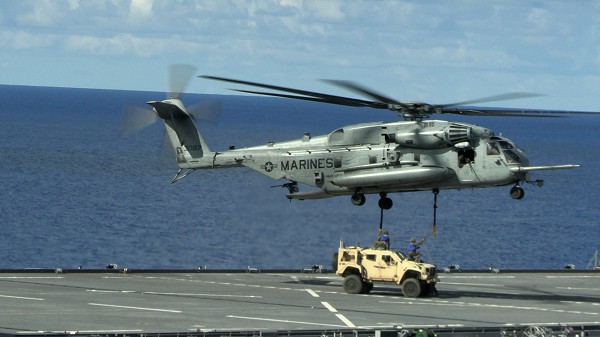 Philippine Sea. (September 9, 2022): In this photo by Lance Corporal Christopher England, a U.S. Marine CH-53S Super Stallion , with the Marine Medium Tiltrotor Squadron 262, 31st Marine Expeditionary Unit, is attached to a joint light tactical vehicle by Marines from Combat Logistics Battalion 31 aboard the USS Miguel Keith in the Philippine Sea. This exercise proves the Marines can bring heavy equipment into the most remote areas while operating aboard ships from the Tripoli Amphibious Ready Group.
Philippine Sea. (September 9, 2022): It is an age-old problem. How do militaries move their heaviest equipment, tools often critical to the outcome of a battle, into remote locations where they are most needed?
In 218 BC, Hannibal (age 28) and his soldiers solved their heavy lift problem by using 37 African elephants to transport supplies into battle. Instead of following the coastline, Hannibal marched his elephant borne infantry from Spain over the Alps to Italy to the total surprise of the Roman Army.
In 1812, Napoleon failed to conquer Russia. in part because the wooden wheeled carts he used to move his artillery pieces sank into the snow and mud before making it to the battlefield.
Read more: SPECIAL DELIVERY… MARINES SUPER STALLION DOES THE HEAVY LIFTING
Details

Hits: 30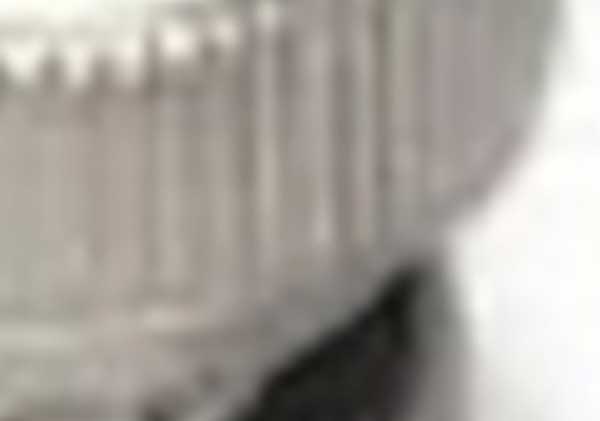 U.S., September 20, 2022 - SupportOurTroops.Org was privileged to be called upon and thanks to its patriotic American supporters were able to provide $4,924 of specialty equipment to a deploying U.S. unit. The private sector can most often move quicker than the government because it is not hobbled by as many regulations. SOT gets the troops what they need, when they need it, wherever they are located. Specialty shipments of hygiene, operational and special equipment increase mission effectiveness and protect life and limb. Your recurring Patriot Brigade® donations support delivery of critical specialty equipment like this.
Details

Hits: 56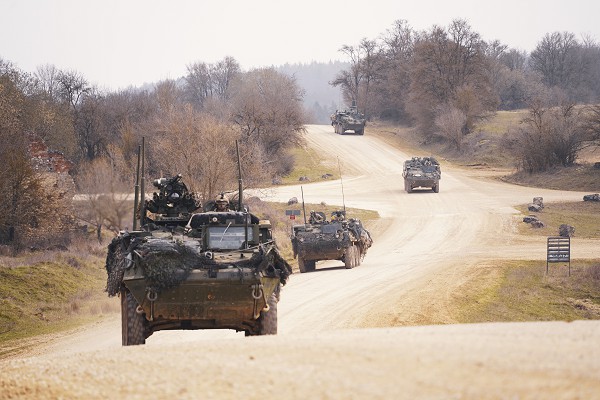 Vilseck, Germany. (September 10, 2022): In this photo by Sergeant LaShic Patterson, U.S. Army Stryker vehicle variants, assigned to the 2nd Cavalry Regiment, maneuver downhill during Dragoon Ready exercises at Hohenfels Training Area, Germany. The 2nd Cavalry has the distinction of being the longest active serving Cavalry Regiment in the Army.
Vilseck, Germany. (September 10, 2022): When Americans face military aggression anywhere in the world, we call out the U.S. Cavalry. Today, Support Our Troops, a U.S. based charity dedicated to improving the lives of active duty deployed servicemembers, was awarded an Army Certificate of Achievement by the 1st Squadron, 2nd Cavalry Regiment for their charitable efforts to boost troop morale.
The 2d Cavalry Regiment (Dragoons) are a U.S. Army brigade combat team, headquartered at Rose Barracks in Vilseck, Germany which has the distinction of being the longest active serving Cavalry Regiment in the Army. The unit is a modern, rapidly deployable force of over 5,000 Dragoons (soldiers). They are currently assigned to rapid deployment to Poland as part of NATO's reinforcements countering Russian aggression in Ukraine.
Read more: SUPPORT OUR TROOPS HONORED BY 2ND CAVALRY REGIMENT FOR BOOSTING MORALE
Details

Hits: 48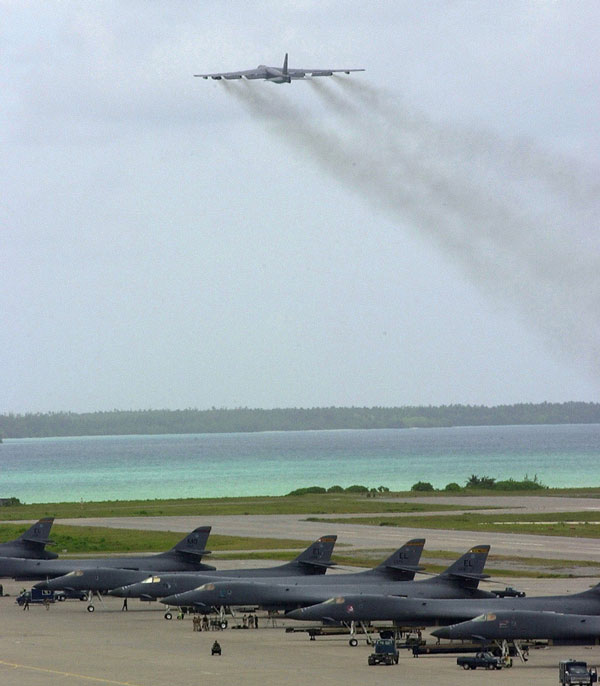 Diego Garcia, Indian Ocean. (Oct. 22, 2001): In this photo by Staff Sergeant Shane Cuomo, an Air Force B-52 bomber from the 28th Expeditionary Wing takes off from Diego Garcia for a combat mission in support of Operation Enduring Freedom. American B-52s, B-1, and B-2 bombers expended more than 80 percent of the tonnage dropped during 600 sorties over Afghanistan. B-52 bombers also provided close air support to Army and Marine ground forces, a first since the Viet Nam War.
"I remember watching the B-52s with their fighter escorts as they flew over our camp. Minutes later, we could hear the thunder as the ground literally shook under our feet. My only thought was "It must be a living hell to be on the receiving end of that!"
SSG Jim Spearing (Ret)
Operation Desert Storm
Diego Garcia, Indian Ocean. (Oct. 22, 2001): Their pilots are younger than the aircraft they fly, by decades. Capable of delivering tons of high explosives from as far as 8,800 miles away, the veritable B-52 bomber is the ultimate symbol of American dominance and firepower… something the Al Qaeda and Taliban terrorists were soon to learn.
The legendary U.S. Army's 1st of the 87th Infantry, 10th Mountain Division was moving into positions along a valley near Marzak , Afghanistan when they began taking sporadic fire from Taliban and Al Qaeda fighters from caves and well-fortified positions in the ridges above them. The enemy was clearly familiar with the terrain and had carefully targeted the area with their mortars. As the 10th Mountain infantry arrived, the enemy began pouring highly accurate fire onto their positions. As casualties began to mount, the call went out for air support. Within five minutes, a B-52 bomber flying above the battlefield scored a direct hit on the enemy ending all movement and relieving the beleaguered soldiers. These dauntless warriors would join the thousands of American servicemembers rescued by the devastating firepower of the lethal B-52 bomber.
Read more: AN AIR WAR LIKE NO OTHER… AMERICAN B-52S RAIN "LIVING HELL" ON AL QAEDA
Details

Hits: 53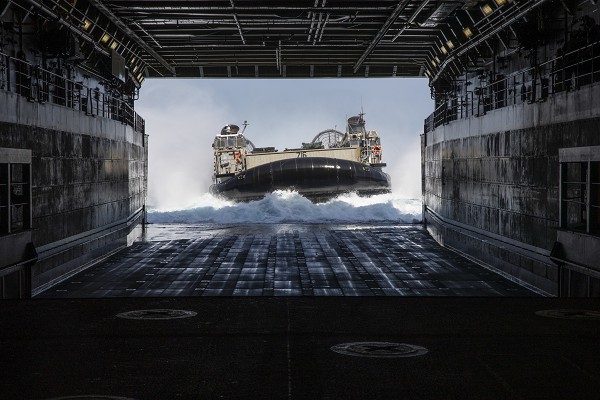 Camp Pendleton, CA. (May 22, 2022): In this photo by Marine Corporal Garrett Kiger, U.S. Navy Landing Craft attached to Assault Craft Unit 5 prepare to enter the well of the amphibious transport dock USS Portland after transporting personnel and equipment from the famed 15th Marine Expeditionary Unit.
Camp Pendleton, CA. (September 10, 2022): Most military experts said that what the Marines proposed simply could not be done.
While debris from the cowardly terrorist attacks on 9/11 were still smoldering, President George Bush expressed the anger of the American people by summoning the U.S. Military's shock troops, the Marines. Military specialists, however, doubted whether the Corps could mount an invasion of a land locked country in one of the most remote and hostile locations in the world without access to forward land bases. Attacking Al Qaeda and Taliban fighters would require a long-range strike capability as the battlefield would be over 400 miles from the sea. The experts were confident it couldn't be done and that the Marines would be unable to play a meaningful role.
Someone forgot to "tell it to the Marines."
Read more: THE EXPERTS DOUBTED THEM… MARINES LAUNCH HISTORIC AMPHIBIOUS ASSAULT AFTER 911
Subcategories