Details

Hits: 60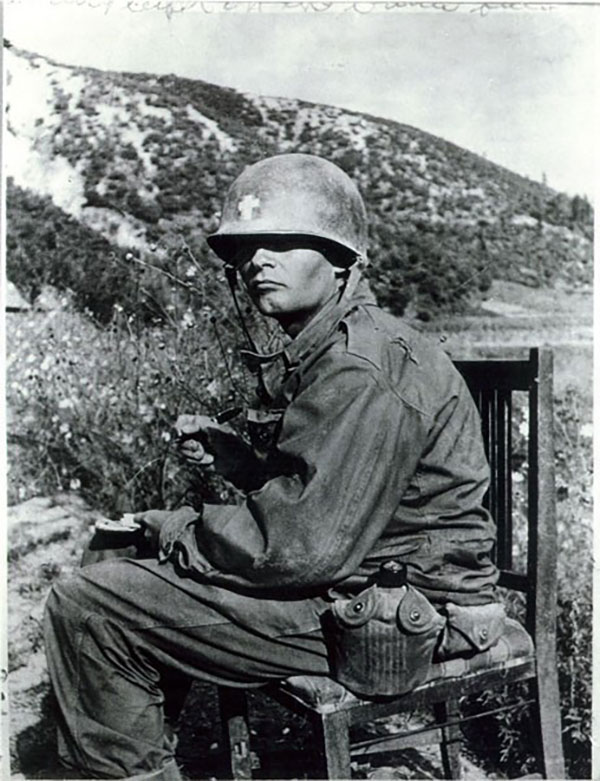 Washington D.C. (November 12, 2023): On the 238th anniversary of the Chaplain Corps, the Army recognized the unsung role of military clergy by celebrating the heroics of Capt. Emil J. Kapaun, a selfless priest who died as a prisoner of war in 1951 and was awarded the Medal of Honor.
During the Korean War, Kapaun was serving with the 3rd Battalion of the 8th Cavalry Regiment during the Battle of Unsan when Chinese forces encircled his battalion. Kapaun ran fearlessly between foxholes, dodging bullets to provide comfort and reassurance to his outnumbered fellow soldiers. He repeatedly exposed himself to enemy fire to recover wounded men and, when he couldn't drag them, dug trenches around them to shield them from harm. Ignoring numerous opportunities to escape, Kapaun was taken prisoner of war on November 2, 1950.
Once inside the dismal prison camps, Kapaun risked his life by sneaking around the camp after dark, foraging for food, caring for the sick, and encouraging his fellow Soldiers. He endured starvation, beatings, rampant illness, and sub-zero temperatures and never lost his faith and determination to resist.
Inspiring thousands of his comrades to fight to survive, he died while in captivity and was awarded the Medal of Honor on April 11, 2013.
Details

Hits: 71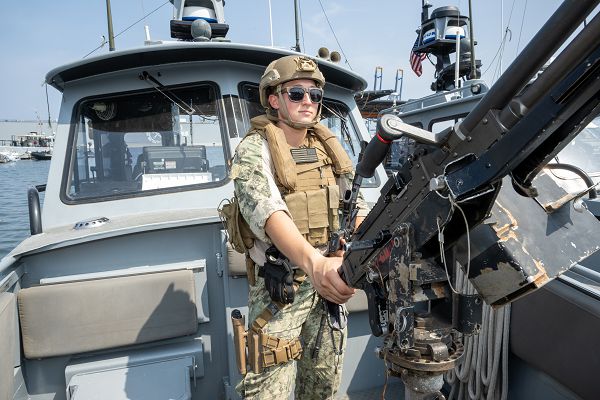 Camp Lemonnier, Djibouti (November 1, 2023): The Red Sea, between Iranian ally Yemen and the impoverished nation of Eritrea, is a tough neighborhood for America's Navy. In this photo by MC1 Maria A. Olvera Tristan, Builder 2nd Class Payton Carl, a gunner from Navy Maritime Expeditionary Security Squadron 11, stands watch at Dorahleh, Djibouti. Based at Camp Lemonnier, Squadron 11 is charged with protecting thirty-eight tenant commands and visiting naval vessels with around the clock port security and escort operations. The base is home to the three warfare specialties including Military Working Dog teams, Army Quick Reaction Forces, and Djiboutian port police.
Now called MSRON forces, today's riverine community can trace its roots to the fearless small boat teams that plied the deltas of Vietnam. Since the bombing of the USS Cole in 2000, MSRON11 has used its small boat fleet to police one of the world's busiest shipping routes. The unit patrols the Bab-el-Mandeb Strait which is the gateway from the Red Sea to the Indian Ocean.
Details

Hits: 91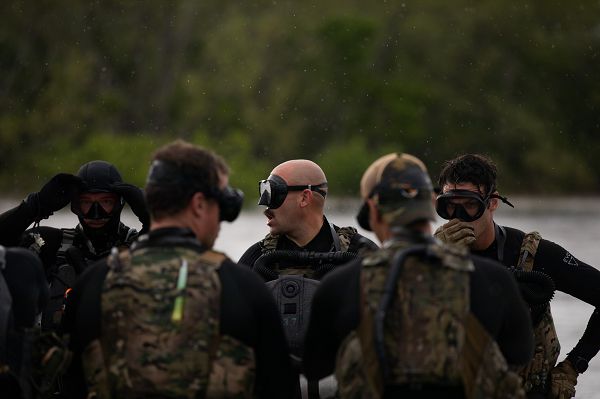 Naval Air Station Key West, Florida. (November 2, 2023): In a display of incredible stamina and skill, Team 4 from the Army's 5th Special Forces Group won the Best Combat Diver Competition at the Special Forces Underwater Operations School, beating out the Navy SEALs.
The three-day event featured13 two-person teams from U.S. Army special operations and Navy SEALs competing in events that assessed their academic rigor, physical grit, and mental agility. Founded in 1964, the Special Forces Underwater Operations School is the premier institution developing expert special operators in underwater and maritime operations.
The school trains more than three hundred service members annually and assists another thousand troops in preparing for deployment or obtaining certifications. The school's instructors are made up of the nation's elite; Army Special Forces, Army Rangers, Navy SEALs, and Air Force pararescue men who are experts at submarine exfiltration and infiltration. The school offers a Combat Dive Qualification Course, a Combat Diving Supervisor's Course, and a Diving Medical Technician Course.
The advantage of using submarines to insert or recover special operators is the difficulty of the enemy detecting them. Done properly, these insertions occur and the adversary doesn't know these commandos and the subs carrying them have ever been there.
Submarine-borne infiltration and exfiltration is one of the most dangerous missions in the military and requires diving from a submarine's "lock-out" chamber. A certain number of Navy submarines are equipped with these so-called "trunks" that are used to get operators into and out of a submerged submarine. When the sub arrives at the infiltration point, the special operators enter the trunk wearing their scuba gear and the trunk is flooded to match the outside pressure. Once equilibrium has been achieved, operators open the trunk's hatch and head to their target, taking with them any necessary gear, such as inflatable boats.
Details

Hits: 114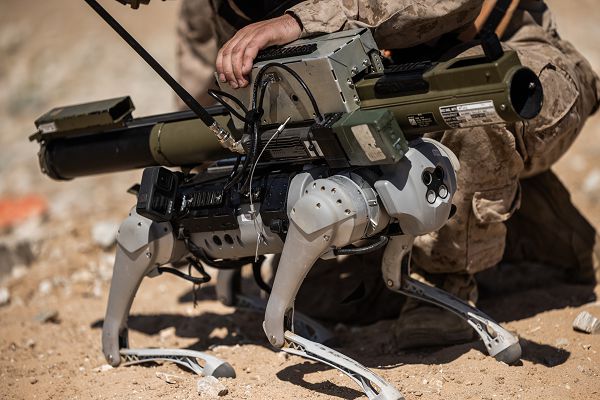 Twenty-Nine Palms, California. (November 12, 2023): We have heard a great deal about robotic dogs but the U.S. Marines have gone one better, a tactical "goat". In this photo by Lance Cpl. Justin J. Marty, an M72 Light Anti-Tank Weapon mounted on a robotic platform fires at a target during an evaluation at the Marine Corps Air-Ground Combat Center. A concept developed by the Marine Tactical Training and Exercise Control Group, scientists with the Office of Naval Research hope to develop a system that carries both weapons and sensors for Marines to operate remotely.
Designed to support Marine ground forces, this robotic quadruped can carry different payloads and is designed to reduce the load of individual Marines. Instead of having a Marine handle the weapon system, the goat can acquire targets, release safety, and fire a missile, all done remotely.
Fielded in 1963, The M72 LAW weighs just 5.5 pounds and is still in use by multiple services. The weapon is light, cheap enough to discard after firing, and simple to use. Mounted on a robotic platform, the operator can use a video game like controller to adjust an on-board camera. The driver can then fire the weapon from a safe distance and, if the unit survives, use its camera eye to view the damage.
Details

Hits: 89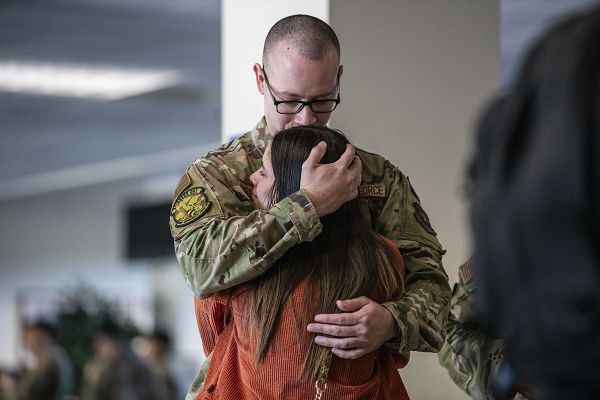 Travis Air Force Base, California. (November 8, 2023): The Air Force has a new plan when it comes to deploying its forces and it means more predictability for the average Airmen. In this photo by Nicholas Pilch, Senior Airman Osvaldo Rodriguez Matias, 860th Aircraft Maintenance Squadron C-17 Globemaster III crew chief, spends time with a loved one before he and more than four hundred other Airmen become the first to deploy under the new Force Generation model.
Force Generation is designed to end the practice of "crowdsourcing" Airmen for overseas deployments and will add stability while improving readiness. Under the previous "Expeditionary" model, Airmen would be assembled from dozens of locations and were expected to arrive in the combat zone ready to perform as a team. In future conflicts, however, there won't be time to work out the kinks before units must be operating as a high-performance team.
Details

Hits: 80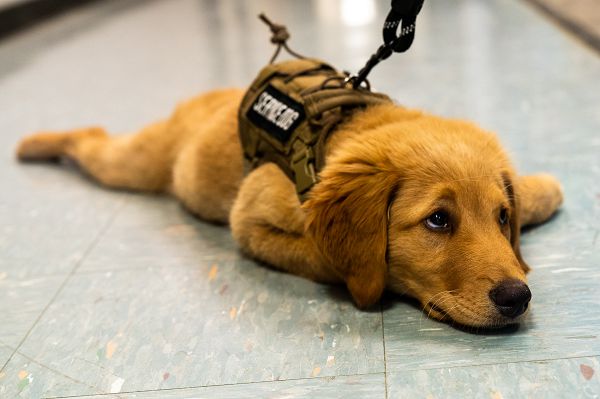 Rosecrans Air National Guard Base, St. Joseph, Missouri. (November 7, 2023): In this photo by Senior Airman Janae Masoner, Koda, the latest support dog for the 139th Airlift Wing, Missouri Air National Guard, poses during a photoshoot while beginning her training as a psychiatric service dog. She is a four-month-old goldendoodle who will assist servicemembers suffering from Post Traumatic Stress Disorder (PTSD) as a therapy and comfort animal. Unlike emotional support animals (ESA), which provide comfort through their presence but require no specialized training, PTSD service dogs are granted specific rights under the Americans with Disabilities Act. These rights include allowing them access to public places where other dogs may be prohibited, such as restaurants, stores, hotels, and on airplanes.
The specialized training these dogs receive helps troops with flashbacks, nightmares, severe anxiety, and uncontrollable thoughts tied to the trauma they suffered.
Typical tasks for PTSD service dogs include waking their handler when they are having nightmares or interrupting flashbacks by responding to signs of stress. These dogs offer comfort during panic attacks and often function as a buffer in crowds to reduce anxiety. They are even trained to intervene to stop self-harming behaviors.
Research has shown these animals help give PTSD sufferers a sense of security and constant companion for twenty-four-hour therapy.
Subcategories