Details

Hits: 47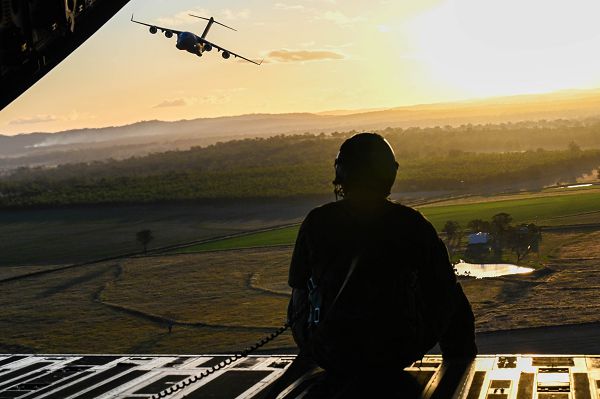 Royal Air Force Base Amberley, Queensland, Australia. (May 6, 2023): In this photo by Senior Airman Makenzie Cooper, U.S. Air Force Technical Sgt. Joseph Hoffman, an Advanced Instructor Course loadmaster with the 535th Airlift Squadron, sits on the ramp of a C-17 Globemaster III during a training flight over Australia during exercise Global Dexterity 23-1, This is the sixth exercise between the U.S. Air Force and its Indo-Pacific partners that has taken on greater urgency given the current political situation.
Global Dexterity is a coalition exercise between USAF and RAAF C-17 squadrons to develop seamless operations and maintenance integration so that one day RAAF and USAF operations are indistinguishable from one another. The Royal Australian Air Force No. 36 Squadron and U.S. Air Force 15th Wing teamed up during the two-week-long exercise to practice tactical airlift and airdrop capabilities.
During the exercise, both nations integrated aircrews and conducted low-level formations and cargo and personnel airdrops taking the unique opportunity to fly numerous C-17s in formation. In a humanitarian crisis, for example, the ability to launch multiple C-17's with mixed crews doing airdrop missions will be critical to saving lives.
The C-17 Globemaster III is the Air Force's most flexible cargo plane capable of rapid strategic delivery of troops and all types of cargo to main operating bases or directly to forward bases in the deployment area. The C-17 is enormous, measuring 174 feet long with a wingspan of 170 feet and is powered by four giant Pratt & Whitney F117-PW-100 turbofan engines. Despite its gargantuan size, the C-17 is designed to operate through small, austere airfields and it can take off and land on runways as short as 3,500 feet and only 90 feet wide. This flying warehouse cruises at 500 mph at an altitude of 28,000 feet and has a range of approximately 2,400 nautical miles. The aircraft is used for tactical airlift and airdrop missions and can transport ambulatory patients during aeromedical evacuations.
Unseen to the public is the enormous amount of planning that goes into every C-17 cargo flight. The size and weight of U.S.-mechanized firepower and equipment have grown over the years and so has the need for larger air transport capability to deliver troops and equipment to the battlefield. Cargo is loaded onto the C-17 through a large aft ramp and door system that can accommodate102 paratroopers with their accompanying equipment.
The Loadmaster is responsible for properly loading, securing, and escorting cargo and passengers ensuring everything and everyone is safe and secure on flights all over the world.
(Editor's Note: The Advanced Instructor Loadmaster Course is very selective. Airmen must be nominated through their respective squadrons and approved by their wing commander and then pass a selection board that decides who will attend the rigorous 14-week program).
Details

Hits: 51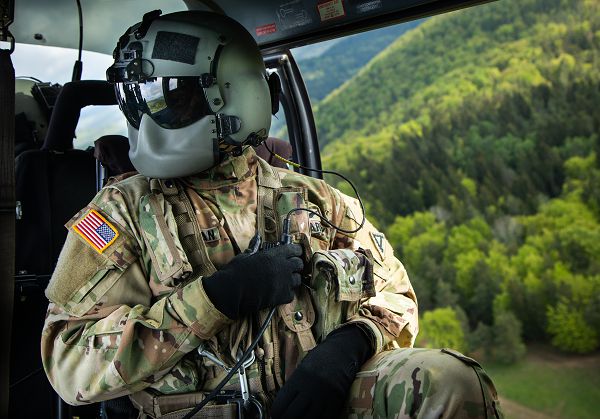 Hohenfels, Germany. (May 5, 2023): When can a Specialist issue orders even a General must obey? When they are an aviation Crew Chief aboard military helicopters.
That is when, for safety reasons, what they say goes regardless of rank. In this photo by Specialist Joshua Zayas, Crew Chief Specialist Logan Speakman, assigned to the Joint Multinational Readiness Center, talks with his team over the radio while aboard the UH-72A Lakota aircraft.
Specialist Speakman and his Lakota are participating in Combined Resolve 18, a joint exercise involving U.S. Army Europe and Africa forces and the 2nd Armored Brigade Combat Team of the 1st Cavalry Division.
Details

Hits: 122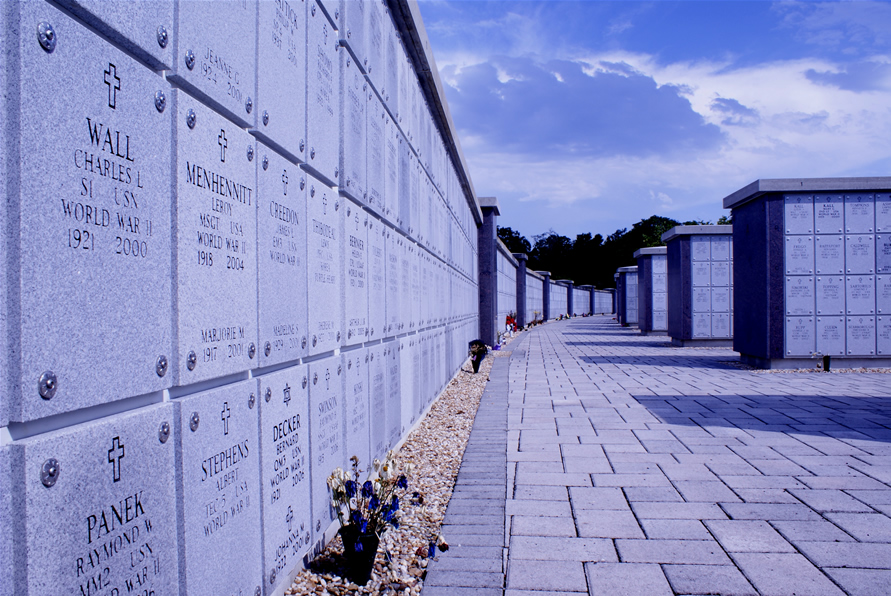 Tallahassee, FL May 28, 2023 – This is my father's gravestone located at the National Cemetery at Bushnell, Florida. He was buried with full military honors after 27 years' military service that included tours in three wars. His generation saved the world from tyranny, and we rightfully honor them for their contributions to America. Amid the ceremonies this Memorial Day, let us not forget the daily sacrifices made by military families whose support makes our volunteer force the envy of the world. These families routinely endure years of uncertainty and chaos and how well they cope can determine a military career.
My father, like most of his generation, volunteered for the military after the attack on Pear Harbor. My dad fought in the Pacific in some of the bloodiest fighting of the war, including the Battle of Okinawa, and went on to serve with distinction in both Korea and Viet Nam.
All the while our family of seven tagged along and did what we could to make things work. We learned to adjust quickly to rapid change, new people, friends, and surroundings every three years. During our father's tours of duty overseas, every family member assumed responsibility for various household chores and the home learned to operate independently, and successfully, despite the inconvenience.
Today's military families face the same challenges and more and we should remember that they are the glue that holds everything together. This Memorial Day, let us also commend these families for their contribution to our national defense.
Jim Spearing, SSG Ret., The SOT Team
Details

Hits: 78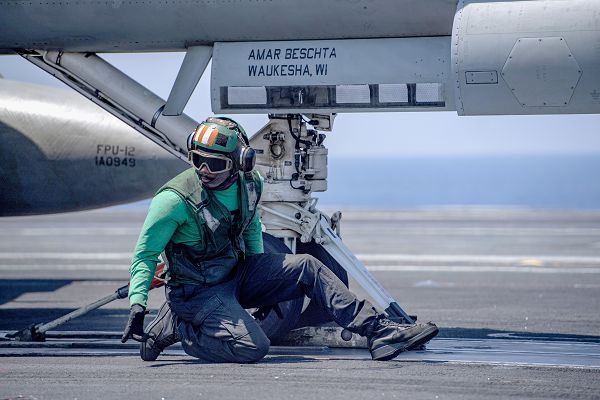 Philippine Sea. (May 16, 2023): The U.S. Navy recently announced the decision to retire the veritable USS Nimitz aircraft carrier just as the nation's oldest-serving U.S aircraft carrier successfully completed its 350,000th arrested aircraft landing, a milestone nearly 48 years in the making. In this photo by MC2 Justin McTaggart, a Sailor prepares an F/A-18E Super Hornet from the "Kestrels" of Strike Fighter Squadron 137 for launch. Commissioned in 1975, the Nimitz has served with distinction in numerous regional crises around the world. Tens of thousands of Sailors and Marines have sailed on the Nimitz during some 30 deployments to fulfill difficult and dangerous missions.
The Navy named its largest and most powerful class of aircraft carrier in honor of the accomplishments of Chester W. Nimitz, Chief of Naval Operations during World War II.
Admiral Nimitz, who died in 1966 at age 80, not only commissioned America's first nuclear powered submarine but also established the Navy's elite Blue Angels flight demonstration squadron.
Plans for disassembling and salvaging the Nimitz are underway and, unless Congress extends its lifetime, this symbol of American firepower will no longer ply the world's oceans defending freedom.
Details

Hits: 52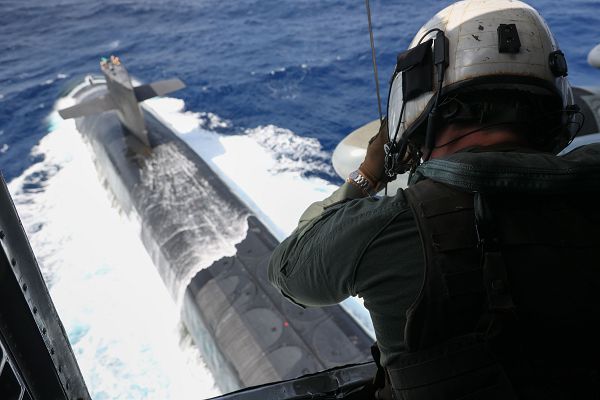 Philippine Sea. (May 17, 2023): In this photo by Lance Corporal Emily Weiss, Staff Sergeant Joseph McDonnell, a crew chief with Marine Heavy Helicopter Squadron 462, 1st Marine Aircraft Wing, III Marine Expeditionary Force, lowers a package to the Ohio-class ballistic missile submarine USS Maine during a vertical replenishment at sea. These airborne deliveries enable naval vessels to quickly take on vital supplies without interrupting maritime operations.
This at sea replenishment is a key factor in the Marine Corps "Stand In" concept of positioning its forces in wartime. The strategy is to devise ways to deploy and sustain forces as close to the enemy as possible. America currently has 14 Ohio Class nuclear submarines in service and another four converted into conventionally armed guided missile boats. These subs carry up to 154 Tomahawk cruise missiles and also serve as motherships for special forces.
Also known as "Boomers", these submarines can be loaded with up to 20 Trident II ballistic missiles each with multiple independent warheads. The Navy's various classes of submarines can host of a variety of missions including stand-off strikes, intelligence-gathering, and discrete infiltration/extrication of special operations troops.
The ability to supply these vessels to resupply submarines while underway is critical to American combat success.
Details

Hits: 55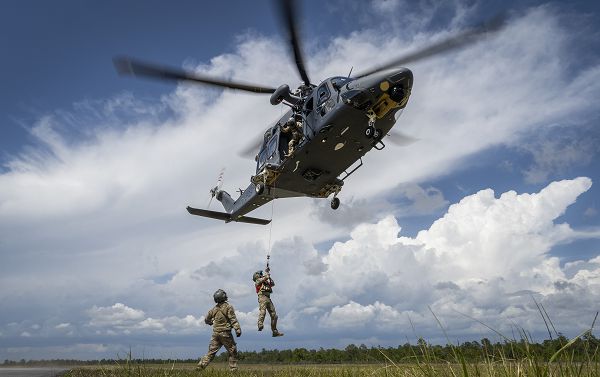 Eglin Air Force Base, Florida. (May 18, 2023): In this photo by Samuel King, Jr., an MH-139A Grey Wolf lifts an Air Force Global Strike Command Detachment 7 special mission aviator into the air as part of live hoist testing of the Air Force's newest helicopter. The 413th Flight Test Squadron and Det. 7 worked together to successfully complete a series of critical performance tests on this latest in utility rotary wing aircraft.
The Grey Wolf replaces the venerable UH-1H Huey, our nation's most rugged utility helicopter since the 1970s. The Grey Wolf flies 50% faster and has greater range than the Huey and can lift 5,000 lbs. more payload. Built by Boeing, the Grey Wolf can handle multiple roles ranging from protecting U.S. ballistic missile sites to transporting government officials and security forces. Today, its chief job is patrolling the US arsenal of land-based ICBMs and the bases that support these missile-laden silos.
To join the Air Force fleet, the Grey Wolf had to pass the rigorous testing program of two of the most unique units in the U.S. military; the 413th Flight Test Group and the Air Force Global Strike Command. One group is dedicated to sophisticated flight-testing methods and the other provides the pilots and special mission aviators.
The 413th, based at Robbins Air Force base, Georgia, is the Air Force's only dedicated rotary test unit that conducts flight evaluations on aircraft being considered for acquisition. The group is a partnership between the Air Force Materiel and the Reserve Commands that supervise all flight test. The unit includes five squadrons made up of 140 full-time Airmen, 78 traditional reservists, and nine civil servants.
Subcategories