Details

Hits: 102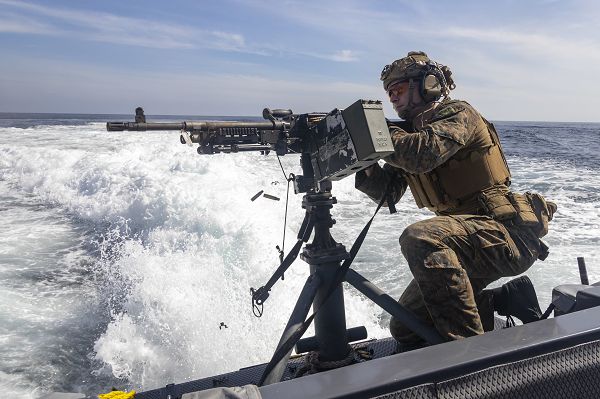 South China Sea. (April 17, 2023): In this photo by Corporal Austin Gillam, a Marine with Raid Platoon, 13th Marine Expeditionary Unit, fires the M240B machine gun while speeding along in a rigid-hull inflatable boat during gun range practice. One of the most elite elements in the Marine Corps, a Maritime Raid Force's mission is to visit, board, search, and seize suspect vessels on the high seas, an extremely dangerous proposition indeed.
Once a potentially hostile vessel has been identified, the 13th Marine Expeditionary Unit (MEU) dispatches the raiders to investigate and, if necessary, subdue those aboard and seize control of the ship. During these high intensity encounters, the raiding party must also ensure the health and safety of any detained crewmembers until the vessel is turned over to the appropriate legal authorities. These raids are used to counter piracy, confiscate contraband, enforce international agreements, and deal with many other complex security-threatening situations.
Details

Hits: 83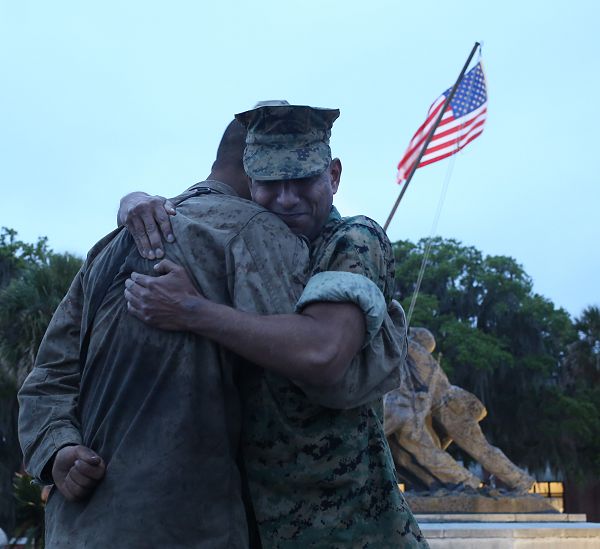 Parris Island, South Carolina. (April 13, 2023): In this photo by CWO3 Bobby Yarbrough, Private Joshua Kaza, a newly made Marine is awarded his Eagle, Globe, and Anchor by his father, Lt. Col. Babu Kaza at Marine Corps Recruit Depot Parris Island. Joshua is named after his father's friend who was killed in Al Anbar Province, Iraq in 2004. Lt. Col. Kaza attended the Basic School (Officers candidate course) with then 1st Lieutenant Joshua Palmer and they shared a special bond as prior-service enlisted Marines. Kaza learned of his friend's tragic death in the Battle of Fallujah and, together with his wife Tabitha, decided to name their unborn son in his honor. Private Kaza received his Eagle, Globe, and Anchor on April 8th—the anniversary of Palmer's passing.
Details

Hits: 91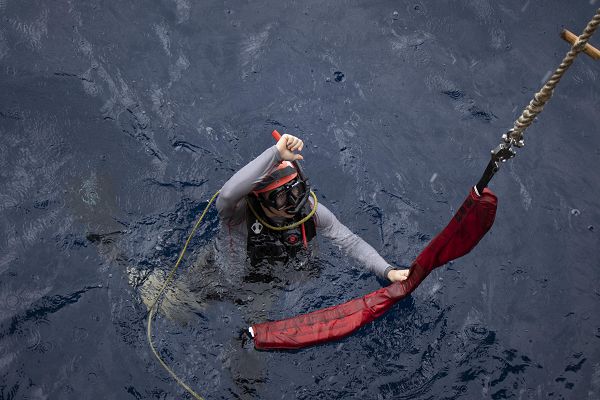 South China Sea. (April 15, 2023): In this photo by MC1st Tom Tonthat, Yeoman 3rd Class Joseph Shortino, a search and rescue (SAR) swimmer, signals to the amphibious transport dock USS Anchorage during a man overboard recovery drill. These drills are a critical element of vessel safety and prepare the crew to jump into action quickly in the event of a crew member falling overboard. The legend of the SAR rescue swimmer was immortalized in the 2006 motion picture The Guardian starring Kevin Costner and Ashton Kutcher that portrayed their legendary courage and willingness to face danger. With lives on the line, rescue swimmers challenge high seas, dangerous lightning, and strong currents while risking their lives to save others. In a typical rescue, the SAR swimmer jumps from a helicopter into hellish waves and then battles brutal currents to reach panicked victims who are fighting for their lives.
As you can imagine, the road to becoming a rescue swimmer is one of the most physically and emotionally challenging in the U.S. military. An applicant must be able to swim four hundred meters in 11 minutes, for example, and able to run a mile and a half in under 12 minutes just to even be considered for the program.
Students attend a four-week-long Aircrew School followed by the five-week-long Aviation Rescue Swimmer School in Pensacola, Florida. After graduating, SAR students go on to their respective 'A' School to learn a specific field and then they are off to their fleet assignment.
Details

Hits: 107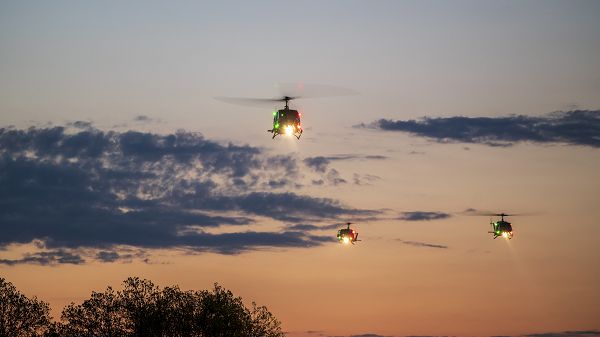 Washington, D.C. (April 6, 2023): In this photo by Master Sgt. Nicholas Priest, three U.S. Air Force UH-1N Huey helicopters from the 1st Helicopter Squadron, Joint Base Andrews, Maryland prepares to land on the National Mall during a routine training flight. The 1st Helicopter Squadron's mission is to provide priority airlift evacuation for national-level civil and military senior leadership in the Nation's Capital in an emergency. The Squadron is assigned to the 811th Operations Group that supports the Washington D.C. capital area with routine airlift for the Executive Branch, high-ranking dignitaries, military leaders, and other VIPs. The Wing consists of two squadrons of aircrew and support personnel.
The 1st Helicopter Squadron is the Air Force's largest operational helicopter squadron flying the UH-1N Iroquois "Huey", the indestructible workhorse of the Viet Nam War. The squadron was first activated in February 1944 as the 1st Fighter Reconnaissance Squadron and flew combat missions in the China-Burma-India Theater during WW II. The Air Force's use of helicopters to transport 'distinguished persons' in the Capital area dates to August 1955 when the Military Air Transport Service was organized at Andrews. The unit also stands ready to help civilian authorities in the event of a disaster.
Details

Hits: 100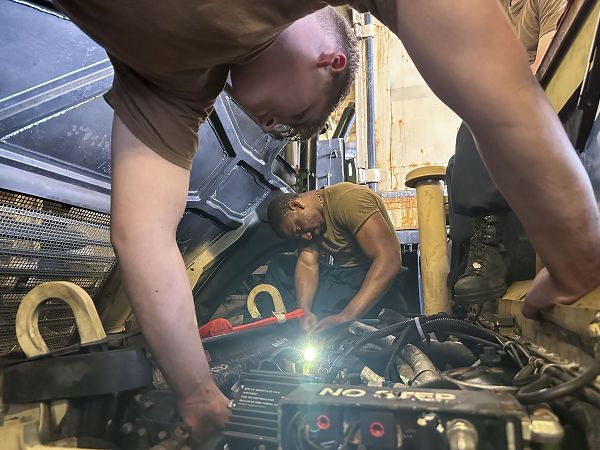 Sulu Sea. (April 13, 2023): In this photo by MC2 Joshua Samoluk, Construction Mechanic Seaman Kenneth Foster, left, and Seaman Glenn Thornhill, right, replace an alternator on a Humvee in the well deck of the amphibious transport dock ship USS John P. Murtha. Construction Mechanics repair and maintain heavy construction, tactical, and automotive equipment used to carry out amphibious landings. These skilled technicians diagnose equipment failures including mechanical, electrical, hydraulic, and pneumatic systems and they maintain spare part inventories for equipment repair. In addition to supporting the Naval Construction Forces, Construction Mechanics are in high demand to provide support to Special Warfare and Explosive Ordnance Disposal Units.
Details

Hits: 102
Marine Corps Base, Hawaii. (April 13, 2023): In this photo by Corporal Clayton Baker, Marines carry simulated casualties to safety in a combat evacuation drill during the Corporals Course, a program to teach non-commissioned officers the skills needed to become small unit leaders.
Created in 2009, the Corporals Course focuses on the backbone of the Marine Corps, the non-commissioned officer (NCO). Veteran instructors share their firsthand accounts of leading Marines which helps students relate to their own life experiences. This two-week program teaches basic infantry tactics, communications, land navigation, and military drill and ceremony. The goal is to build a platform for young students to explore the world of the NCO and to learn how to successfully train and lead Marines in combat.
The skills attained at the Corporals Course return to the workplace which improves the core leadership of the entire unit. Eventually, passing the Corporals Course will be a requirement for promotion.
Subcategories