Details

Hits: 128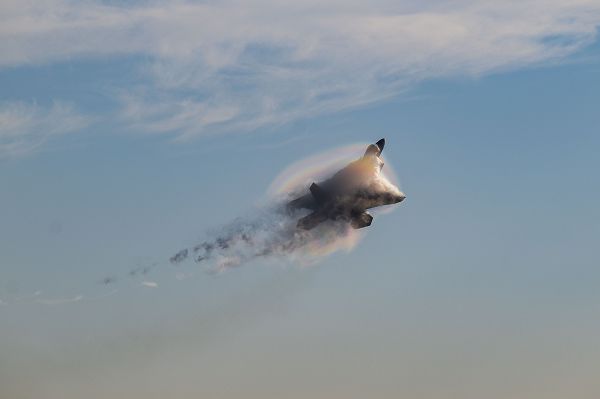 Joint Base Langley-Eustis, Virginia (October 12, 2023): It is a spectacular sight, an airplane appearing to be engulfed in smoke, as if about to explode. Fortunately, the plane is ok and the effect we are witnessing is a fascinating piece of physics. In this photo by Senior Airman Zachary Rufus, an F-22 Raptor assigned to the 27th Fighter Squadron takes off during the 2023 William Tell Air-to-Air Competition held at the Savannah Air National Guard base in Savannah, Georgia.
The apparent "smoke" consuming the Raptor is really water droplets forming around the plane which creates a drop in air pressure at extremely high speeds. The phenomenon is called a vapor cone or shock collar and it occurs when the fighter passes through "high transonic" speeds, probably going more than seven hundred miles per hour.
This spectacular spray of vapor around a fighter differs from high altitude contrails, or condensation trails, that form streaks of condensed water vapor that form behind larger aircraft at high altitudes. Also, fossil fuel combustion (as in piston and jet engines) produces carbon dioxide that mixes with the water vapor and frigid air to form these remarkable displays of physics.
Details

Hits: 111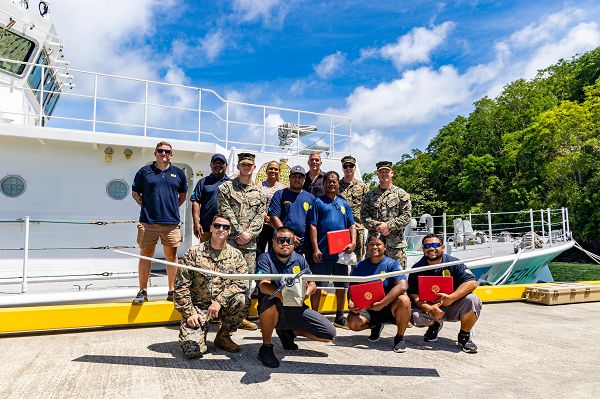 Koror, Palau. (October 5, 2023): In this photo by Staff Sergeant Courtney G. White, U.S. Marines with Task Force Koa Moana 23 and Palauan Maritime Law Enforcement Officers pose for a photograph at the conclusion of a RQ-20B Puma Unmanned Aerial System (UAS) Training Course. The program was part of Task Force Koa Moana 23, a joint 1st Marine Expeditionary Force and Palauan Fish and Wildlife service exercise to improve cooperation between our two nations.
Palau is an enormous chain of over five hundred islands that make up the Micronesia region in the western Pacific Ocean. Koror Island is home to the former capital, also named Koror, and is the islands' commercial center. Palau is strategically located between the Philippines and Guam, vital bases for U.S. bombers . It is one of three Pacific island countries that ceded their defense and security to the United States in 1982 in exchange for economic assistance and other benefits under what are called "compacts of free association".
Details

Hits: 131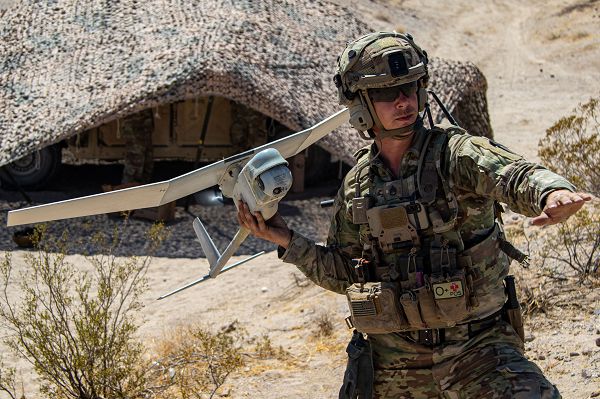 Fort Irwin, California. (October 6, 2023): In this photo by Army Major Jason Elmore, a soldier physically launches the RQ-11B Raven, a small, unmanned aircraft system that has become the military's solution to intelligence gathering. Deployed at the Company level, AeroVironment's Raven system proved its worth in U.S. operations in Iraq and Afghanistan.
The Raven provides real-time direct intelligence, surveillance, and reconnaissance of targets using advanced cameras to relay data to one of two ground control stations. This "packable" aircraft is launched by hand and gives soldiers day or night aerial intelligence, surveillance, and target acquisition. This remote-controlled system consists of three aircraft using two ground control stations and is operated by a specially trained two-person crew. The Raven can be controlled manually or can autonomously navigate a preplanned route flying up to six miles at 450 feet and at speeds up to sixty mph.

The aircraft includes gimbaled electronics for a 360-degree view and uses electro-optical or infrared cameras depending on the situation. Of exceptional value to soldiers is the Raven's ability to land itself by auto-piloting to a pre-defined landing point and can be commanded to immediately return to its launch point by pressing a single button.
The Raven has become so popular with foreign customers that they are currently operated by Australia, Estonia, Italy, Denmark, Spain and Czech Republic. Today, the Raven is the most widely adopted UAS system in the world.
Details

Hits: 126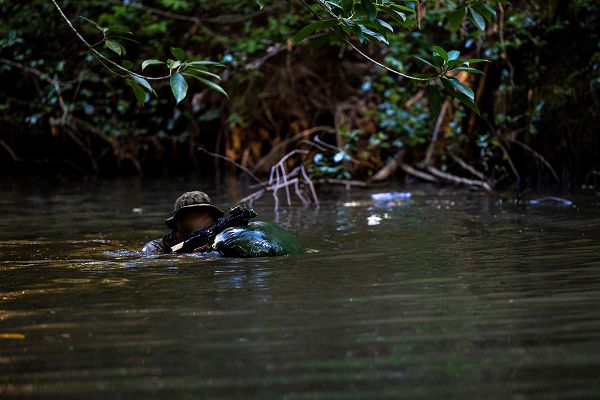 Camp Lejeune, North Carolina. (October 3, 2023): They were sometimes resented by their fellow Marines due to their status as an "elite unit" within an elite force. The Marine Raiders were organized in 1943 as the Corps' first special operations unit and their valor was never questioned. In this photo by Corporal Henry Rodriquez, a Marine Raider with Marine Forces Special Operations Command traverses a river during a jungle mobility course on how to maneuver in a tropical environment, conceal their position, and track enemy movements. These men belong to the today's Marine Special Operations Force that is known once again as the Marine Raider Regiment in an homage to their World War II brothers.
With America's entry into World War II, President Franklin D. Roosevelt became interested in creating an American counterpart to the British Commandos and Chinese guerrillas operating in northern China. The Marines established two Raider units, the 1st Battalion led by Lt. Col. (later, Major General) Merritt A. "Red Mike" Edson which became one of the first United States special operations forces to see combat during World War II.
Colonel Edson's Marine Raiders landed at Guadalcanal to defend the recently captured Henderson Field in the famous "Battle of Edson's Ridge". The 1st Raiders scored a major defensive victory over Imperial Japanese Army forces by repulsing attacks by the fanatical Japanese 35th Infantry Brigade, a force 6,000 soldiers who would rather die than surrender. Japanese Major General Kiyotake Kawaguchi was given the unpleasant task of recapturing the airfield from the Marines and driving the Allied forces from the island. Although the Marine defenses were almost overrun, Kawaguchi's attack was ultimately defeated with heavy Japanese losses. Colonel Edson was awarded the Medal of Honor for his actions in the battle.
Details

Hits: 118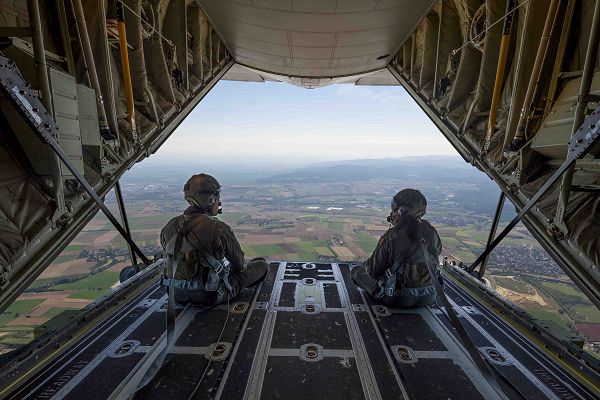 Ramstein Air Force Base, Germany. (October 1, 2023): In this photo by Senior Airman Edgar Grimaldo, Air Force Staff Sergeant Andrew Flint, and Airman 1st Class Andrea Medranda, 37th Airlift Squadron loadmasters, sit on a C-130J Super Hercules ramp during a simulated cargo drop during a Hispanic heritage flight over Germany. The 37th Airlift Squadron celebrated the contributions of Spanish Americans to our nation's defense by flying an all-Hispanic crew including the loadmasters, pilots, maintainers, and medical personnel who participated in an aeromedical flight training sortie.
From the Spanish-American War to Operation Enduring Freedom, Latinos have served with great distinction. According to the Department of Defense, Hispanics represent 19% of the U.S. population and make up 17% of our active duty servicemembers. In a testament to their toughness, the Marine Corps has the highest percentage (23%) of Latino members among all the services. According to the Department of Veterans Affairs, there are nearly 1.3 million Latino veterans, or about 8 percent of the veteran population. By 2045, this figure is projected to reach 12 percent.
Soldiers of Spanish or Latin American heritage have fought in every U.S. conflict since the Revolutionary War. The first Hispanic recipient of the Medal of Honor was awarded to Joseph H. De Castro who served in the Civil War. As a member of the Massachusetts Infantry, Castro served as a color-bearer, the flag he was carrying making him a visible target of Confederate forces. In total there have been over 60 Hispanic Medal of Honor winners in American history.
Several thousand Hispanic Army volunteers, mostly from the Southwest, fought with distinction in Cuba during the Spanish-American War in 1898. Among them was Capt. Maximiliano Luna, the only Mexican American officer in the 1st U.S. Volunteer Cavalry — better known as the Rough Riders — led by Col. Theodore Roosevelt.
Details

Hits: 105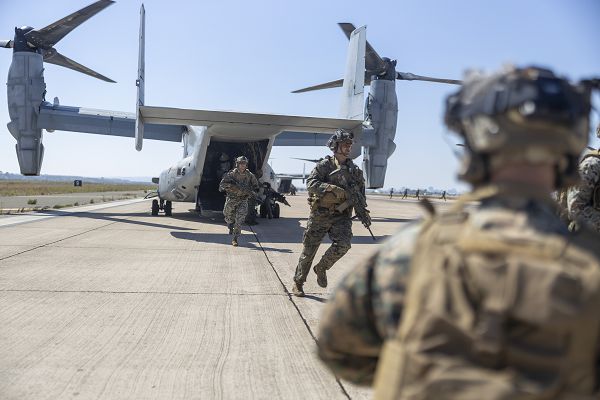 San Diego, California. (September 29, 2023): In this photo by Corporal Daniel Childs, Marines with 1st Marine Division, I Marine Expeditionary Force exit an MV-22B Osprey with 3rd Marine Aircraft Wing, during the Marine Air-Ground Task Force demonstration at Air Station Miramar Airshow. The show gave civilians the chance to witness the coordinated use of air support, armor, artillery, and infantry forces and to see first-hand the spirit of American Marines. Visitors learned how the Corps operates and got a chance to interact with individual Marines and other servicemembers. The highlight of the event was an air show by the famous Navy Blue Angels precision flight demonstration team. Formed in 1946, the Blue Angels perform at over seventy shows a year throughout the country, thrilling audiences with their twisting, falling, turning, and staying in formation maneuvers that push flying to the limit.
The Marines are not alone in staging these important community relations events.
The Army deploys its Golden Knights dare devil parachute team across the nation to perform for large audiences demonstrating the skill and professionalism of today's soldier. The team is composed of ninety-five soldiers broken into four parachute units, an aviation unit, and a headquarters. The demonstration teams, which use five dedicated aircraft to perform at more than one hundred events per year, even take celebrities and heads of state on jumps.
The Navy also fields an expert parachute team, "The Leap Frogs" , staffed by elite active-duty Navy SEALs and Special Warfare Combatant-craft Crewmen. The Leap Frogs were formed in 1969 when Navy SEALs and Underwater Demolition Team members volunteered to perform at weekend air shows.
Subcategories