Details

Hits: 102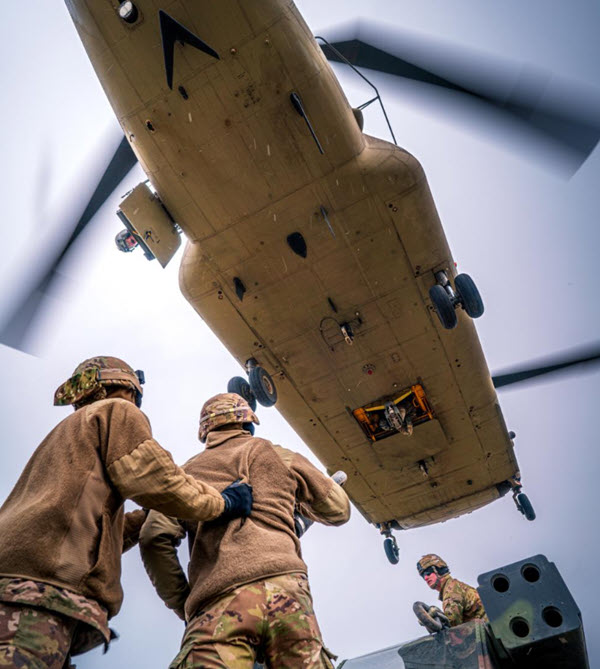 Romania. (January 25, 2023): In this photo by Major Robert Fellingham, U.S. Army air defenders attach their Avenger weapon system to a Chinook helicopter during sling load training near the Black Sea coast of Romania.
Charlie Battery, 5th Battalion, 4th Air Defense Artillery Regiment practiced sling-loading both the Avenger with a Chinook helicopter crew from Bravo Company, Combat Aviation Brigade, 1st Armored Division. Pictured left to right is Specialist Toby Delsignore, Specialist Christopher Salazar, and Specialist Jarod Vanlandingham.
Sling-loading multi-million-dollar equipment to a moving helicopter is challenging and dangerous if not done properly. These soldiers are required to pass a five-day Sling Load Inspector Certification Course (SLICC) to qualify as sling load inspectors. Soldiers must know the special fixtures and accessories used to lift tons of vehicles and equipment, from generators to tanks, while ensuring that the load is evenly distributed and will not fall during transport.
Details

Hits: 115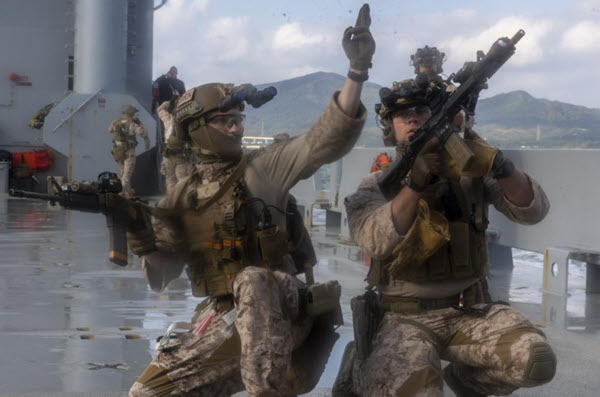 Okinawa, Japan. (January 26, 2023) In this photo by Sergeant Andrew King, U.S. Marines assigned to the Maritime Raid Force, 31st Marine Expeditionary Unit, post security on the USAV Calaboza during a visit, board, search, and seizure (VBSS) training off the coast of Kin, Okinawa.
VBSS training consists of boarding a vessel to systematically check all compartments for enemy personnel, weapons, or contraband. VBSS teams, like the Maritime Raid Force pictured above, are trained to capture enemy vessels, combat terrorism, stop piracy and smuggling, and to conduct customs, safety, and other inspections of suspect vehicles on the open sea.
That is no simple task.
To be a VBSS team member, a Marine must pass three courses on Close Quarter Battle (to develop proficiency in hand-to-hand combat tactics), search procedures, and tactical team movements. Students practice shooting, rappelling, searching, and arrest procedures for non-compliant combatants.
While all Sailors in the U.S. Navy are eligible to serve aboard a VBSS team, only those approved by their ship's command are considered. Being approved does not guarantee inclusion on a VBSS team, as it is possible (and not uncommon) for candidates to wash out of VBSS school which has an attrition rate of up to 30 percent.
U.S. Navy VBSS teams are generally armed with M4 carbines, Mossberg 500 shotguns, and Beretta M9 pistols. They wear Kevlar body armor and a buoyant tactical vest that doubles as a life preserver. The majority of U.S. naval ships deploying with VBSS teams are smaller, such as destroyers or cruisers, who are the most effective to combat illegal narcotics, arms trafficking, and piracy.
These law enforcement activities maintain security and freedom of sea lanes worldwide.
Details

Hits: 90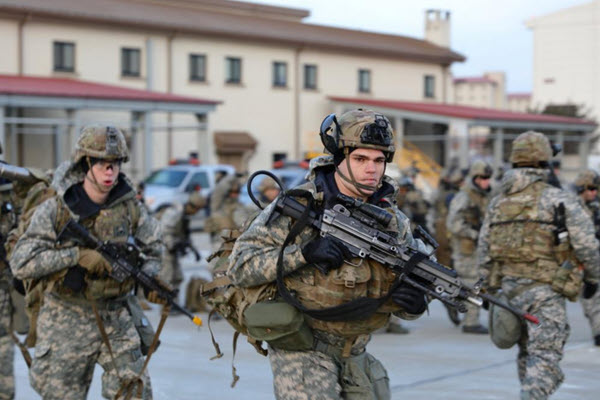 Camp Humphreys, South Korea. (February 2, 2023): In this photo by Captain Frank Spratt, Army Specialist Tyler John Vandkirk of C Company, 2nd Battalion, 1st Infantry Regiment, 2nd Stryker Brigade Combat Team, 2nd Infantry Division begins moving toward a UH-60M Blackhawk helicopter from C Company, 2nd Battalion, 2nd Aviation Regiment on the runway of Desiderio Airfield, Camp Humphreys, South Korea.
A total of 130 Soldiers were transported in UH-60M Blackhawk and CH-47F Chinook helicopters to practice air insertion techniques and link up procedures as part of a combined arms team.
The 2nd Infantry Division, known for its distinctive Indianhead shoulder patch, has the primary mission of pre-emptively defending South Korea in the event of an invasion. There are approximately 17,000 soldiers in the 2nd Infantry Division, with 10,000 of them stationed in South Korea, which accounts for about 35% of the United States Forces in Korea.
Details

Hits: 93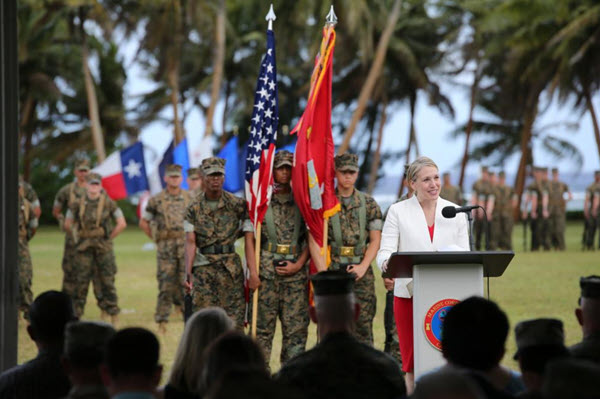 Asan, Guam. (January 26, 2023): In this photo by Lance Corporal Garrett Gillesie, the Honorable Meredith Berger, Assistant Secretary of the Navy for Energy, Installations and Environment, speaks at the Marine Corps Base Camp Blaz Reactivation and Naming Ceremony at Asan Beach, Guam. The ceremony officially recognizes the rebirth of Naval Support Activity Camp Blaz after the Marine Barracks was deactivated in 1992. Named after the late Brig. Gen. Vicente "Ben" Thomas Garrido Blaz, the first CHamoru Marine to attain the rank of general officer, Camp Blaz represents a renewed commitment to the people of Guam and the defense of the Indo-Pacific. The CHamoru are the indigenous people of the Mariana Islands, politically divided between the United States territory of Guam.
The ceremony included a joint ship display including Guam's fast cutters, the U.S. Coast Guard cutters Myrtle Hazard and the Frederick Hatch.
The U.S. Coast Guard and the U.S. Marine Corps have a history of cooperation dating back nearly 80 years when Coast Guard members drove the landing craft that brought the III Amphibious Corps ashore in 1944 to retake Guam from Imperial Japanese Forces in World War II. When Marines first landed on Guam during the Spanish-American War, they established Marine Barracks Guam in the village of Sumay, thus beginning a century-long relationship that continues today with the activation of Marine Corps Base Camp Blaz.
Details

Hits: 169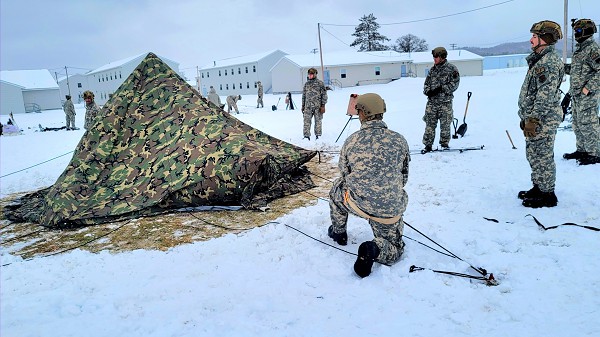 Fort McCoy, Wisconsin. (January 19, 2023): In this photo by Scott T. Sturkol, Airmen with Air National Guard and Air Force Reserve security forces units learn to build an Arctic 10-person tent during a 16-day Cold-Weather Operations Course at Fort McCoy, Wisconsin. More than 50 Airmen from across the Air Force are participating in the event to learn how to survive in arctic conditions. Airmen practiced using snowshoes and moving as a squad over deep snow. The Airmen built cold-weather shelters, practiced survival techniques, and how to properly wear cold-weather gear.
The Cold Weather Operations Course is a 2-week class held 6 times a year at Fort McCoy and is modeled after a similar program taught by the Army Northern Warfare Training Center at Black Rapids, Alaska. Each class begins in the classroom studying survival techniques followed by 14 days practice in the field under frozen conditions.
Read more: Against the cold… AIR FORCE TRAINS LIKE IT'S THE BATTLE OF THE BULGE
Details

Hits: 84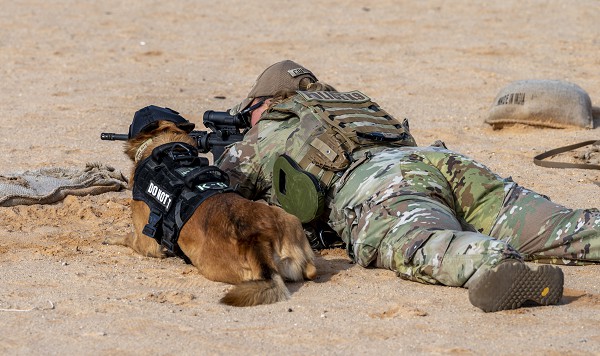 Prince Sultan Air Base, Saudi Arabia. (January 21, 2023): In this photo by Senior Airman Stephani Barge, U.S. Air Force Staff Sgt. Jordan Courtney, a K-9 handler with the 378th Expeditionary Security Forces Squadron, sensitizes working dog Mirco to gunfire. K-9 Defenders and their handlers are required to train together around live fire to ensure the dogs can handle the stress of combat.
Military working dogs have accompanied soldiers into battle since ancient times because of their loyalty, intelligence, and trainability. The dogs train for 90-120 days to become certified in bite work, bomb, and drug detection. According to Health.mil, over 4000 military working dogs have been injured during combat operations since 1980 and the U.S. Army Veterinary Corps has established a trauma registry to record these animal's treatments, injuries, and deaths.
Subcategories