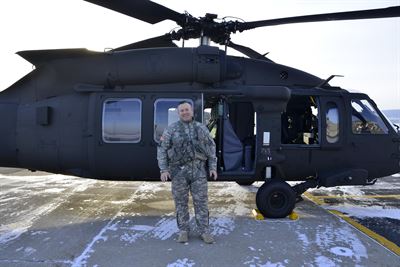 Army Sgt. 1st Class John Thompson, a UH-60 Black Hawk helicopter standardization instructor with the Minnesota National Guard's 34th Combat Aviation Brigade, found his calling as a unit victim advocate and now volunteers in his local community. Thompson is pursuing a degree in human services and plans to work in a related field once he retires from the military. Minnesota Army National Guard photo by Master Sgt. Blair Heusdens ST. PAUL PARK, Minn., April 6, 2016 — Army Sgt. 1st Class John Thompson sits by his phone, ready to respond at a moment's notice to assist people who've been victimized and are at one of the lowest points in their lives. He's not a police officer or firefighter, but he often finds himself responding at all hours of the night.
Thompson's experience as a victim advocate in the Minnesota National Guard and as a volunteer in his community has opened his eyes to a problem that persists not only in the military, but also in the civilian world.
"There are a lot of nights that it doesn't ring, which is a good thing, but there are too many nights that it does. Sometimes it rings more than once and you go out on multiple calls," he said.