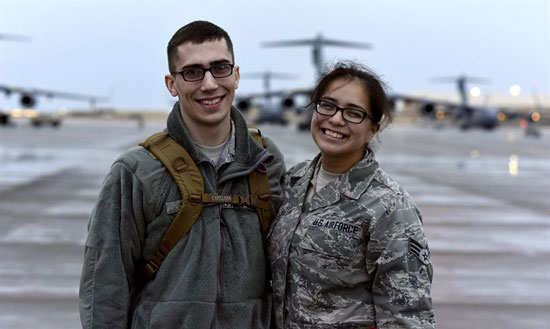 By Air Force Senior Airman Cynthia Innocenti
379th Air Expeditionary Wing
AL UDEID AIR BASE, Qatar, March 10, 2017 — The sky casts a grey haze, damp concrete calmly reflects ramp lights in the distance, and a light mist dampens the sage uniform worn by Air Force Senior Airman Sylvia Feigum as she illuminates the orange marshaling wands in her hands.
After she crosses her arms above her head signaling the aircraft to stop, Feigum walks swiftly to the exit door of the plane.
Feigum, a combat oriented supply organization journeyman with the 8th Expeditionary Air Mobility Squadron, is responsible for coordinating supply requests for C-17 Globemaster III aircraft maintenance and also maintains mobility readiness spares packages containing high-demand and critical aircraft parts for the C-17 and C-5 Galaxy aircraft here.
Since arriving, Feigum has also volunteered to step outside of her primary career field to learn and execute aircraft marshalling, or visual communication with aircraft.
Taking on this extra duty would hold extra significance to her on one day in particular when she had the opportunity to direct a Boeing 777-200 aircraft carrying her husband, Air Force Senior Airman Matthew Feigum, a combat crew communications journeyman with the 816th Expeditionary Air Lift Squadron.