Details

Hits: 2725
1-31-2015: I am the flight chief of 12 deployed Airmen. I wish to submit a request for care packages in which I will share with all my troops. I have seen your website and it is a wonderful service you put on. THANK YOU SO MUCH!!! We are due to go home 30 July 2015. v/r, Master Sergeant Ernie ---- Read More Letters
Details

Hits: 3629
We recently received a letter from a mother whose son, Timothy --, is currently deployed in Iraq. She wants to give her son a care package of beef jerky. She was looking around the Internet for ways to help. As a mom, she knows and feels, in a very personal way, the sacrifice of our hard working troops. She knows firsthand what a care package can do, how they can make a soldier's day, and improve morale.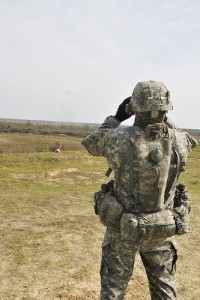 A soldier with the SC National surveys terrain during a training exercise. Her son's unit, she said, is originally from South Carolina, and she provided us with an APO address to send the package. Here's her letter: I FOUND YOUR WEBSITE WHEN I GOOGLED SUPPORT FOR SOLDIERS. SO GLAD THERE ARE ORGANIZATION THAT HELP OUR TROOPS. DEEPLY APPRECIATE THE HELP AND SUPPORT OF ANY CARE PACKAGE. I KNOW THEY GIVE A SMILE AND MAKE THEIR DAY. THEY WORK LONG 12 HOURS DAYS AND ARE VERY DESERVING. THANKS AGAIN MOM There are many moms like this and helping their sons and daughters is what we do. Can you help? Please contact us and let us know.
About Support Our Troops
Support Our Troops is America's Military Charity. We bolster the morale & well-being of the troops and their families worldwide. Our programs provide millions of dollars' worth of care goods and services including family assistance, kid's camp assistance, positive public support and more at hundreds of locations around the globe. If they're there, we're with them®.
Details

Hits: 2691
Kuwait - 7-4-2015: On July 4, 2015 SPC Davis ----- of the 1/66 AR H.C celebrated the 4th by emailing SOT with the following thanks to all the Americans who are supporting them while deployed: Hello my name is SPC Davis ----- of the 1/66 AR H.Co. Support Operation Spartan Shield here in Kuwait. I'm very thankful for the many things you have sent it doesn't go unnoticed.
Read more: Troops on 4th of July very thankful for what Americans do!
Details

Hits: 3137
Here at SupportOurTroops.org, we regularly receive correspondence from all over the world, be it a request for help for our soldiers (sometimes something as small as beef jerky), or just a simple thanks, for the work we are more than happy to do.
Recently, we received a letter from the Kadena Air Base in Okinawa, Japan.
Details

Hits: 2834
Recently, we got some correspondence from the mother of a sailor deployed on the USS Jason Dunham, which at the time of the writing was in the area of the Baltic Sea. We are always happy to get messages from military family members. Here's a photo of the vessel:
Details

Hits: 2934
July is the month that started it all and a great time to remember the armed forces, the soldiers and the sacrifice of the brave men and women, who give all on a daily basis. Please consider donating today. Quick factoid: The opening shots of the American Revolution were fired at Lexington and Concord, Massachusetts in April 1775. Along with a few other important historical events, like the assassination of Franz Ferdinand, the event is known as the "shot heard round the world,"
Read more: A letter of thanks for the armed forces from Okinawa
Details

Hits: 4465
Very few things we do give us more joy than hearing from our armed forces overseas, especially when we can provide them with help and support. Last time, we heard from the mother of a sailor deployed on the USS Jason Dunham. The mother told us that our care packages reached her daughter on the ship.