Details

Hits: 4094
Qatar, 2-20-215- Technical Sergeant Heather —–, of a USAF Biological Augmentation Team stationed in the middle east, recently received a care package from Support Our Troops, containing much needed comforts from home. The supplies really touched her heart, she said, and brightened her team's day.
Details

Hits: 4635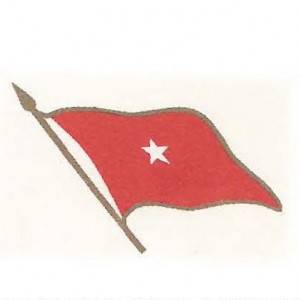 Flag of the brigadier generalI want to personally thank you for graciously donating to the Family Readiness Group of HHC, 20th CBRNE Command to ensure that the Daddy/Daughter dance was a success. Your donation ensured a smooth event and an amazing experience for all of our fathers and their daughters. Thanks again for your professionalism and service to the 20th CBRNE Command. "Liberty We Defend!" ~~ JB -----, Brigadier General
Support Our Troops® provides funding support for military family events. These fall under the acronym MWR, which stands for morale, well-being (welfare), and recreation.
Details

Hits: 3575
We recently received a letter from a mother whose son, Timothy --, is currently deployed in Iraq. She wants to give her son a care package of beef jerky. She was looking around the Internet for ways to help. As a mom, she knows and feels, in a very personal way, the sacrifice of our hard working troops. She knows firsthand what a care package can do, how they can make a soldier's day, and improve morale.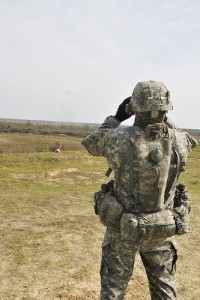 A soldier with the SC National surveys terrain during a training exercise. Her son's unit, she said, is originally from South Carolina, and she provided us with an APO address to send the package. Here's her letter: I FOUND YOUR WEBSITE WHEN I GOOGLED SUPPORT FOR SOLDIERS. SO GLAD THERE ARE ORGANIZATION THAT HELP OUR TROOPS. DEEPLY APPRECIATE THE HELP AND SUPPORT OF ANY CARE PACKAGE. I KNOW THEY GIVE A SMILE AND MAKE THEIR DAY. THEY WORK LONG 12 HOURS DAYS AND ARE VERY DESERVING. THANKS AGAIN MOM There are many moms like this and helping their sons and daughters is what we do. Can you help? Please contact us and let us know.
About Support Our Troops
Support Our Troops is America's Military Charity. We bolster the morale & well-being of the troops and their families worldwide. Our programs provide millions of dollars' worth of care goods and services including family assistance, kid's camp assistance, positive public support and more at hundreds of locations around the globe. If they're there, we're with them®.
Details

Hits: 3032
He wants the military dog for therapeutic support
We received a compelling request recently, from a young soldier stationed in the Middle East. SPC Scott -- is originally from the National Guard in New Hampshire. He's currently a part of the Headquarters Battery (HHB) of the 3rd Battalion, 197th Field Artillery Regiment.
Insignia for the 197th Field Artillery Regiment.SPC Scott -- works as a chaplain assistant, and as such, comes into contact with military soldiers who've felt the effects of their jobs firsthand. They come to him stressed and worn out. He has over 400 soldiers in his care. Scott wrote us and told us he's in the process of getting a military dog to help his fellow soldiers dealing with PTSD. The problem, he said, is that his unit doesn't regularly care for dogs. He asked us if we could help find him supplies for the animal.
Read more: Chaplain Assistant requests help and supplies for military dog
Details

Hits: 3084
Here at SupportOurTroops.org, we regularly receive correspondence from all over the world, be it a request for help for our soldiers (sometimes something as small as beef jerky), or just a simple thanks, for the work we are more than happy to do.
Recently, we received a letter from the Kadena Air Base in Okinawa, Japan.
Details

Hits: 2680
1-31-2015: I am the flight chief of 12 deployed Airmen. I wish to submit a request for care packages in which I will share with all my troops. I have seen your website and it is a wonderful service you put on. THANK YOU SO MUCH!!! We are due to go home 30 July 2015. v/r, Master Sergeant Ernie ---- Read More Letters
Details

Hits: 2877
July is the month that started it all and a great time to remember the armed forces, the soldiers and the sacrifice of the brave men and women, who give all on a daily basis. Please consider donating today. Quick factoid: The opening shots of the American Revolution were fired at Lexington and Concord, Massachusetts in April 1775. Along with a few other important historical events, like the assassination of Franz Ferdinand, the event is known as the "shot heard round the world,"
Read more: A letter of thanks for the armed forces from Okinawa